Vermont A Cappella Summit to be held March 10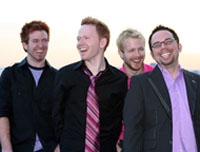 MIDDLEBURY, Vt. - On Saturday, March 10, from 9:30 a.m. -11 p.m., a series of one-hour workshops will be presented by members of the internationally touring a cappella group Blue Jupiter, whose members will share their expertise and experience in the music business with Middlebury audiences. The workshops will take place during the day at the Middlebury College Center for the Arts, on South Main Street (Route 30), from 10 a.m - 6 p.m. Blue Jupiter will perform at 8 p.m. that evening at Mead Chapel, off College Street (Route 125). Events are open to the public. Tickets for the all-day workshop series are $10. Tickets for the evening concert are $3 for Middlebury College students; $4 for Middlebury College faculty, staff and emeriti, senior citizens and children; and $5 for general admission. A cappella groups and individual vocal performers are encouraged to come. Ticket holders may attend any or all of the workshops.
Registration for the day-long series of workshops will take place at 9:30 a.m. in the lobby of the Center for the Arts. At noon, there will be a break between morning and afternoon sessions.
Beginning at 10 a.m., the morning workshops will include "Arranging and Writing Music" and "Vocal Percussion."
From 1 - 3 p.m. a master class will be offered for groups seeking professional and peer feedback for their songs. Pre-registration for the master class is required.
Continuing at 3 p.m., the afternoon workshops will include "Solo Delivery," "Producing and Managing a Recording Project," and "Overcoming Performance Anxiety."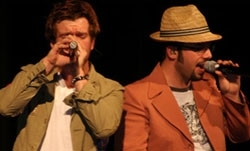 Members of Blue Jupiter will share their expertise and experience in the music business during the all-day workshop sessions.
In the evening, doors will open at 7:30 p.m. for the New York City-based a cappella powerhouse Blue Jupiter. Blue Jupiter recently won the "Oreo and Milk Jingle Contest" hosted by American Idol Judge Randy Jackson. The group also was chosen as "Audience Favorite" at the Chicago Regional Harmony Sweepstakes A Cappella Festival in 2003, and again in 2004 at the Mid-Atlantic Regional Festival.
According to Joe Antonioli, Middlebury College's educational technology specialist in digital media and organizer of the event, Blue Jupiter redefines popular music. "They combine a cappella influences of beatbox and harmony with edgy pop arrangements and high energy performances," he said. The concert will be hosted by Middlebury College's ButchDivas, a quartet that performs spirituals, gospel, folk, jazz, barbershop and original compositions led by Middlebury College Artist-in-Residence François Clemmons, who is the founder and maestro of the Harlem Spiritual Ensemble.
The Vermont a cappella summit is sponsored by the office of the dean of the college, the music department, and library and information services. 
To purchase tickets for the events, contact the Middlebury College Box Office online at http://www.middlebury.edu/arts/tickets/.
A detailed schedule of the workshops will be posted on March 1 at http://www.vermontvocals.org/vacs2007. For more information or to register for the 1 p.m. master class, contact Joe Antonioli, Middlebury College Digital Media, at (802) 443-3062, or by e-mail at jantonio@middlebury.edu.