Middlebury College celebrates 14th annual Public Service Leadership Awards
MIDDLEBURY, Vt. - Forty-eight Middlebury College students were honored for their volunteer efforts at the 14th annual Public Service Leadership Award dinner held Wednesday, April 25, in McCullough Student Center.
The students were nominated by service agencies throughout Addison County, by local individuals, and by their peers. The nominees received certificates of achievement from Dean of the College Timothy Spears and recognition from the more than 100 students, faculty, staff and community members in attendance at the dinner.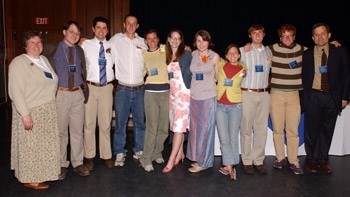 From left, Tiffany Sargent, director of Alliance for Civic Engagement; Michael Sheridan, assistant professor and keynote speaker; award recipients Scott Buckley, Nathan Blumenshine, Jennifer Leigh Williams, Emily Theriault, Lynn Gray, Elizabeth Lyon, Andrew Haile, Jameson Henn; Dean of the College Tim Spears.
From the 48 students, nine of the most dedicated volunteers were selected for special recognition: six for Middlebury College Public Service Leadership Awards, one for the John M. McCardell Jr. Award for Public Service, one for the Bonnie McCardell Award for Public Service, and one for the Dana Morosini Reeve '84 Memorial Public Service Award.
A $300 donation will be made by the College on behalf of each award recipient to a nonprofit organization designated by the student. In the 14-year history of the program, more than $24,000 has been donated by the College on behalf of about 400 public service award recipients. A total of $3,000 will be donated this year.
At the dinner, Dean Spears told the honorees: "Forging a personal connection with another human being can be the single-most important action any of us will take in a lifetime. How we connect with one another helps define us as individuals and as a society. You who have offered your time and energy through volunteer and service-learning efforts have helped build and strengthen these all-important human connections at Middlebury."
The Alliance for Civic Engagement at Middlebury estimates that 1,300 students engaged in community service projects or service-related initiatives in 2006-07. These students gave more than 28,000 hours of service during the academic year - roughly the equivalent of 14 people working for the needs of the community full-time, year-round. More than 300 Middlebury College faculty and staff give another 25,000 hours of their volunteer time and effort annually. Last year, more than $325,000 was raised by Middlebury-led initiatives on behalf of charitable organizations.
The evening's keynote speaker was Michael Sheridan, an assistant professor of anthropology at Middlebury who served in Kenya as a Peace Corps volunteer and has returned to Africa numerous times to work in agriculture, community development and land management in Tanzania. A Fulbright scholar and participant with the New Sudan Education Initiative in Burlington, Vt., Sheridan speaks three African languages in addition to French, English and American Sign Language.
Elizabeth A. Lyon '07 of Hillsdale, N.J., received the Dana Morosini Reeve '84 Memorial Public Service Award, for founding the student organization "Incarceration in Question," raising awareness on campus of social injustice in America's prison system, and for volunteering with WomenSafe.
Andrew J. Haile '07 of Hudson, Ohio, received the John M. McCardell Jr. Public Service Award for his work with the homeless in Addison and Chittenden Counties. Haile, a senior, organized a group of volunteers on campus who regularly volunteer at the John Graham Emergency Shelter in Vergennes.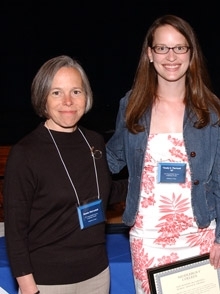 Bonnie McCardell, left, and Emily Theriault, who received the Bonnie McCardell Public Service Award.
Emily S. Theriault '07 of Waterville, Maine, received the Bonnie McCardell Public Service Award. Theriault was a founding member of the Sister-to-Sister Program that connects middle school girls with students at the College to create a safe and supportive environment for young women in Addison County.
Receiving the Middlebury College Public Service Leadership Awards were: Nathan Blumenshine '08 of Minneapolis, who started the organization Hope for Peace on campus; William Scott Buckley '07 of South Charleston, W.V., who serves with the Middlebury Volunteer Ambulance Association, Salisbury Fire Department, and Open Door Clinic in Middlebury; Jamie K. Fuchs '07 of Lake George, N.Y., who worked as a volunteer at HIV/AIDs clinics, orphanages, and schools in South Africa; Lynn Gray '08 of Sturbridge, Mass., who is a campus leader in the Page One Literacy Program's after-school reading and writing initiative; Jameson C. Henn '07 of Cambridge, Mass., for his work on campus, in Vermont and nationally to reduce carbon emissions and reverse global warming; and Jennifer Leigh Williams '08 from Rockford, Ill., who took time off from college to volunteer for eight-and-a-half months in New Orleans after Hurricane Katrina.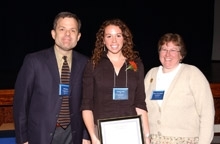 From left, Dean of the College Tim Spears, PSLA recipient Jamie Fuchs and ACE Director Tiffany Sargent.
One additional Public Service Leadership Award was conferred upon a student organization, marking the first time in the 14-year history of the event that an organization, and not an individual, was so honored. The Sunday Night Group was formed by students to reverse the catastrophic effects of global climate change. The organization was instrumental in organizing Step It Up 2007, which took place on April 14; last summer's five-day March for Action from Ripton to Burlington, Vt.,; the carbon reduction program at the College, and many other initiatives.
Patrick Durkin, a 1979 Middlebury graduate, initiated the College's Public Service Leadership Awards in 1993 and continues to underwrite the award program. Durkin is managing director at Credit Suisse-First Boston in the Alternative Investment Group, a member of the Council on Foreign Relations, and a trustee and board member of CARE International.
Each year in February or March, the call for nominations goes out to the community to begin the selection process for the awards. Decisions are based on students' demonstrated dedication to a cause, level of help toward making a positive change for an individual or for the community, and initiative toward increasing the awareness and involvement of other students in public service. Each nomination is returned to the Middlebury College Alliance for Civic Engagement Office and reviewed by a committee of college students, faculty and staff.