Summer issue of New England Review features fiction, poetry and prose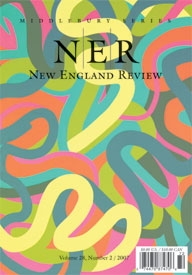 MIDDLEBURY, Vt. ? New England Review (NER), a national quarterly publication of Middlebury College, has published its latest issue (Vol. 28, No. 2), available in the Middlebury College Book Store and through the journal's Web site. As part of the College's commitment to conserving natural resources, the magazine is now published on 100 percent post consumer waste recycled paper.
This issue includes a chronicle of atomic physicists performing Faust in Copenhagen by science writer Gino Segrè; poet Mark Rudman's ruminations on Samuel Taylor Coleridge and an array of other "Sams"; some remarkable reports from 18th-century France, newly translated by Nancy O'Connor; and Francis-Noël Thomas on the lifelong journal of novelist Julien Green. Also included is new fiction by Beverly Jensen, F.D. Reeve, and Emily Mitchell; poetry from James Hoch, Jennifer Chang, and Debora Greger; and a new translation of Marina Tsvetaeva's "Poem of the Hill."
Other poets in this issue include Nicole Cooley, Ron de Maris, Victoria Chang, and Ellen Hinsey. Among the fiction writers are Christine Sneed, E. V. Slate, and Stephen Coyne. Additional nonfiction includes Michael Kraus's close look at the Charter 77 movement in Prague and its role in taking down Communism, and a portrait of the "ideal house" by Robert Louis Stevenson.
New England Review, founded in 1978, has been a publication of Middlebury College for nearly 25 years. The selection of writings in each issue presents a spectrum of viewpoints and genres, including traditional and experimental fiction, translations in poetry and prose, criticism, letters from abroad, reviews in arts and literature, and rediscoveries. Works published in NER are regularly selected for such collections as the Best American series, published by Houghton Mifflin, including "Best New Poets" and "Best American Nonrequired Writing;" "New Stories from the South: The Year's Best;" "The O. Henry Prize Stories;" and for the Pushcart Prize.
NER is edited by Middlebury College Fulton Professor of Humanities Stephen Donadio. The poetry editor is C. Dale Young and the managing editor is Carolyn Kuebler, a 1990 graduate of Middlebury College.
For more information, contact Carolyn Kuebler in the NER offices at 802-443-5075 or ckuebler@middlebury.edu.