Jazz standout Cyrus Chestnut Trio returns for performance Sept. 15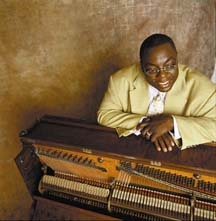 MIDDLEBURY, Vt. ? Jazz pianist Cyrus Chestnut has played a number of times at Middlebury, filling to capacity the Center for the Arts Concert Hall. This year the famed trio will play in Mead Chapel at 8 p.m. on Saturday, Sept. 15. Mead Chapel is located on Hepburn Road off College Street (Route 125).
Chestnut first received musical training from his father, McDonald Chestnut, at age five. At seven, he began playing publicly at Mount Cavalry Star Baptist Church. "I heard my father playing hymns on the piano and I heard the congregation singing. My whole spirit of joy started right there," he said. Chestnut continues to explore new inspirations that blend with the old.
He began his career with such artists as John Hendricks, Terence Blanchard and Wynton Marsalis. He received further musical training at the Peabody Preparatory Conservatory in Baltimore, where he obtained a Certificate in Piano and Musical Theory. Between 1981 and 1985 Cyrus attended the Berklee College of Music in Boston, where he was awarded the Eubie Blake Fellowship in 1982, the Oscar Peterson Scholarship in 1983 and the Quincy Jones Scholarship in 1984, later graduating with a degree in jazz composition and arranging.
In September 1991 he became Betty Carter's pianist, staying with her until 1993. During these early years he also worked with Freddie Hubbard, Branford Marsalis, Larry Coryell, Courtney Pine, Chico Freeman, George Adams, Michael Carvin, Chick Corea, Joe Williams and Dizzy Gillespie. Chestnut has also recorded with Roy Hargrove in 1994, Christian McBride in 1995, and opera singer Kathleen Battle in 1995.
His career as an ensemble leader started in 1989 with the self-produced gospel album "There's a Brighter Day Comin'," followed by Japanese Alfa recordings "The Nutman Speaks" and "The Nutman Speaks Again" in 1993. His last recording for Alfa was "Another Direction" in 1994, which received the Golden award by the prestigious Japanese magazine Swing Journal. His first album with Atlantic Records was "Revelation" followed by "The Dark Before Dawn," both in 1995. Recent recordings include "Soul Food" (2001), "You Are My Sunshine" (2003) and "Genuine Chestnut" (2006).
Chestnut's piano style is deeply rooted in African-American traditions and exhibits a broad knowledge of jazz piano history. The influences of Art Tatum, Hank Jones, Red Garland and Tommy Flanagan are evident in his playing, but he has also absorbed many other musical concepts, which he is now blending into a mature, extremely lyrical and personal style. Critic Lloyd Sachs writes of the Cyrus Chestnut Trio's "soulful thrusts, balletic flourishes, and unabashedly warm-spirited playing," and Chestnut has been called "a distinct musical personality, buoyant and witty" by the New York Post. 
The Cyrus Chestnut Trio's performance is sponsored by the Middlebury College Performing Arts Series. Tickets go on sale to the campus community on Monday, Sept. 10, and to the general public on Wednesday, Sept. 12, and are $15 for general admission and $12 for seniors. Tickets and information is available at 802-443-6433. Online tickets and information are available at www.middlebury.edu/arts.