Walking and talking their way to sustainability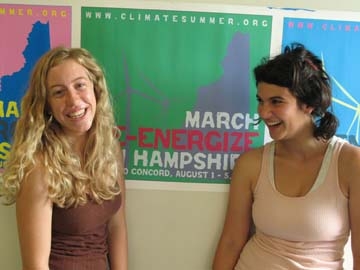 This summer, an ambitious group of 17 Middlebury students and recent graduates are working long hours for little pay in order to make climate change a factor in the presidential campaign. They are participating in the Climate Summer campaign in New Hampshire, and their goal is to raise awareness about global climate change not by working for the candidates themselves but by encouraging citizens of New Hampshire to demand that political leaders address environmental issues. 
Last fall, members of Middlebury College's Sunday Night Group (SNG), a student environmental organization, decided to commit full time to raising awareness about global warming. "Our country needs a president who will do something about climate change, so a group of us decided to immerse ourselves in the political culture in New Hampshire," said Sierra Murdoch a Middlebury College junior. She and others joined the nonprofit Sierra Student Coalition to work with citizens to put the pressure on the government to draft legislation that will reduce emissions by 80 percent by 2050. 
Since the Sierra Student Coalition is a nonprofit organization, members must tread carefully when it comes to politics and avoid showing support for a certain candidate.  Murdoch sees this limitation as a positive aspect of their campaign. The Climate Summer campaign has no contact with the candidates.  Instead, the members talk to citizens and motivate them to call for government regulation of emissions. Murdoch also found that because Climate Summer is a nonpartisan movement, they could reach out to everybody regardless of his or her party affiliation. "We are working with people from many different organizations so we can build support from the inside out," Murdoch said.
Communicating with people who have diverse views proved to be a challenge when the students from the Sunday Night Group decided to take environmental activism beyond the Middlebury campus. Middlebury College junior Marie Horbar pointed out that there are still people who do not fully understand the ramifications of global warming. "We tried to help them understand that environmental issues are social and economic," said Horbar. 
The Climate Summer program has planned demonstrations throughout the summer to rally supporters and gain national support. On "Climb it for the Climate" day, supporters hiked up all seven White Mountain Peaks named after United States presidents. On July 4, they organized a parade that featured carbonless floats.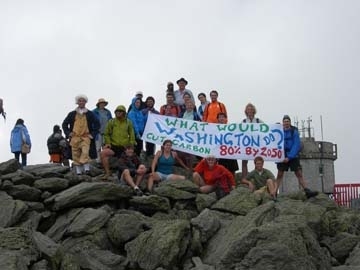 March to Re-Energize New Hampshire
The culminating event for Climate Summer was the March to Re-Energize New Hampshire, a five-day walk through New Hampshire from Aug. 1-5. More than 75 Climate Summer members and New Hampshire residents walked 40 miles from Nashua to Concord. By the end of the march, nearly 300 walked the final miles to Concord and attended a rally at the Statehouse. "The energy of the event was amazing," Horbar said. "It really gave me hope for the future of the environmental movement."
Although Climate Summer involves large-scale demonstrations like Climb it for the Climate and the March to Re-Energize New Hampshire, Murdoch and Horbar both emphasize conversations among individuals as the best way to communicate the importance of the issue. Murdoch and Harbor enjoy forming connections with members of the community. It is these relationships that lead Murdoch to express hope that even after the Climate Summer campaign ends, the movement will continue. "The connections and support we are building this summer are strong, and they will carry through to the election," Murdoch said.
Horbar notes that stimulating conversations among people keeps the campaign nonpartisan as well as making environmental activism accessible to broader groups. "Environmentalism is seen as a radical movement, and radical actions will just turn people off," Horbar said. Starting a dialogue, on the other hand, creates a cooperative movement in which people share responsibility and resources. Horbar sees the March to Re-Energize New Hampshire as an extension of the idea of community. The walkers spent five days talking, eating and sleeping together.  As the group passed through towns, they learned about local efforts to reduce emissions. "Climate Summer highlights the whole spectrum of actions needed for this movement and shows how everyone can be a piece of this movement.  It's about doing your part," Horbar said. The campaign seeks to raise awareness of the large scope of global climate change as well as highlight individual actions. 
Murdoch and Horbar both said that their experiences in New Hampshire have taught them how to talk to all kinds of people. Murdoch said, "Now, I can sit down with someone from a totally different background and talk to them in a reasonable manner because this is an issue that affects all of us." They also express satisfaction with the effects of the Climate Summer campaign both locally and nationally. "I really feel like what we are doing this summer will make a difference," said Horbar.
Middlebury Students involved in Climate Summer:
Becca Wear '10
Corinne Almquist '09
Marie Horbar '09
Sierra Murdoch'09
Bonnie Hemphill '08
Carol Guest '07.5
Shalini Vimal '07.5
Jason Kowalski '07
Ian Hough '07
Kelly Blynn '07
Lindsey Franklin '07
Emily Wheeler '07
Lauren Armstrong '07
Kate Brittain '07
Jamie Henn '07
Will Bates '06
May Boeve '06.5