Car-sharing program to help reduce traffic and pollution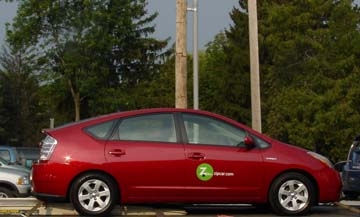 MIDDLEBURY, Vt. ? This fall, Middlebury College will introduce a car-sharing service to faculty, staff and students as an environmentally friendly alternative to bringing personal cars to campus. Zipcar, the world's largest car sharing service, has successfully helped dozens of colleges and universities reduce traffic and noise and parking demands.
"The college has long been a leader in identifying and applying environmentally sound solutions on campus," said Dean of Environmental Affairs Nan Jenks-Jay. "The Zipcar service is a wonderful opportunity to further that commitment."
While this affiliation with Middlebury is its first program in Vermont, Zipcar currently has similar programs at MIT, Columbia, Georgetown, Rutgers, American University, Harvard University, University of Minnesota, University of Toronto, University of North Carolina and The University of Chicago.
Those who wish to use a Zipcar will have access to two self-service Toyota Hybrid Prius Zipcars 24 hours a day, seven days a week. Faculty, staff and students can join Zipcar for an annual fee of $35 and will have access to the Zipcars for $8 per hour or $60 per day. Membership includes low hourly and daily rates, gas, maintenance, insurance and parking. Zipcar membership also allows drivers over age 21 access to the company's network of more than 3,500 vehicles throughout North America and the United Kingdom.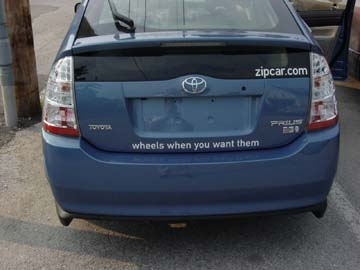 According to Middlebury College Sustainability Coordinator Jack Byrne, the college requested hybrid vehicles to help contribute to its overall carbon reduction. The cars will be located in the parking lot behind Hillcrest Environmental Center and available to all faculty, staff and student members over age 18.
"For students, faculty and staff who cannot or do not want to bring privately-owned cars to campus, Zipcar provides a convenient and cost-effective way to run errands or even take a weekend trip," said Assistant Treasurer and Director of Business Services Tom Corbin.