Fall issue of New England Review features fiction, poetry and prose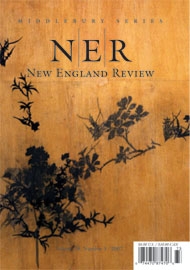 MIDDLEBURY, Vt. ? New England Review (NER), a national quarterly publication of Middlebury College, has published its latest issue (Vol. 28, No. 3), available in the Middlebury College Book Store and through the journal's Web site.
As part of the college's commitment to conserving natural resources, the magazine is now published on 100 percent post consumer waste (PCW) recycled paper.
This issue features a little-known, late Tolstoy story, newly translated by Michael R. Katz; a thoughtful critical appraisal of Tom Stoppard's "Coast of Utopia," by Herzen scholar Judith Zimmerman; and an exploration in poetry and prose by Michael Heller, who reflects on the paintings of Max Beckmann.
Among the poets featured here are Nicholas Samaras, Sarah Murphy, Malcolm Alexander, Molly Tamarkin, G. C. Waldrep, and Janice Greenwood, who makes her publication debut in this issue. Fiction includes a novella by Tony Elias set in Lebanon, plus memorable short stories by Rachel Kadish, Peter LaSalle, Rob Ehle, Glen Pourciau, and Norman Lock.
Rounding out the issue are a probing analysis of recurring imaginative patterns in the films of Alfred Hitchcock, by Tom Gunning, and an illuminating account of the origins of American Transcendentalism, by Philip F. Gura. 
New England Review, founded in 1978, has been a publication of Middlebury College for nearly 30 years. The selection of writings in each issue presents a broad spectrum of viewpoints and genres, including traditional and experimental fiction, translations in poetry and prose, criticism, letters from abroad, reviews in arts and literature, and rediscoveries.
NER is edited by Fulton Professor of Humanities Stephen Donadio. The poetry editor is C. Dale Young, and the managing editor is Carolyn Kuebler, a 1990 graduate of Middlebury College. 
For more information, contact Carolyn Kuebler in the NER offices at 802-443-5075 or ckuebler@middlebury.edu.