Author and Washington Post national news editor to speak Oct. 30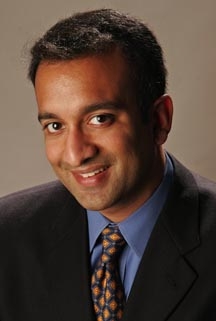 MIDDLEBURY, Vt. ? Rajiv Chandrasekaran, national editor of The Washington Post and author of "Imperial Life in the Emerald City," a 2006 best-selling account of the American effort to reconstruct Iraq, will speak at Middlebury College on Tuesday, Oct. 30, at 7:30 p.m. The lecture is part of the college's "Meet the Press" series and will take place in Room 216 of McCardell Bicentennial Hall. The event is free and open to the public and will include time for audience questions.
At The Washington Post, Chandrasekaran oversees the national news content, including coverage of the federal government and domestic politics, foreign policy, national security, social issues, science and medicine.
Prior to his appointment as national editor, Chandrasekaran directed The Post's Continuous News department, which reports and edits breaking news stories for washingtonpost.com. From 2003 to 2004, he was The Post's bureau chief in Baghdad, where he was responsible for covering the American occupation of Iraq and supervising a team of correspondents. He lived in Baghdad for much of the six months before the war, reporting on the United Nations weapons-inspections process and the build-up to the conflict.
His book, "Imperial Life in the Emerald City," draws on hundreds of interviews and internal documents to tell the story of the people and ideas that inhabited the Green Zone, the headquarters for the American occupation of Iraq.
Chandrasekaran describes the Zone as a bubble, cut off from wartime realities, where the task of reconstructing a devastated nation competed with the distractions of daily comforts - bars stocked with cold beer, a disco, a movie theater, an all-you-could-eat buffet, a shopping mall selling pornographic movies, a parking lot filled with shiny new SUVs, and a dry-cleaning service - much of it run by Halliburton.
Before the U.S.-led war in Iraq, Chandrasekaran was The Post's bureau chief in Cairo. Prior to that assignment, he was the Southeast Asia correspondent, based in Jakarta, Indonesia. In the months following September 11, 2001, he was part of a team of reporters who covered the war in Afghanistan. He appears regularly on CNN, MSNBC and National Public Radio.
Chandrasekaran's talk is part of Middlebury College's "Meet the Press" lecture series and is co-sponsored by several Middlebury College organizations: Atwater Commons, the Rohatyn Center for International Affairs and the English Department. "Meet the Press" was established in 2003 by author and Scholar in Residence in English Sue Halpern. According to Halpern, the lectures are presented under the auspices of the Middlebury College Institute on Working Journalism, a program designed to bring newsmakers - reporters, editors, critics, photojournalists, bloggers and editorialists - to the Middlebury campus.
McCardell Bicentennial Hall is located on Bicentennial Way off College Street (Route 125). For more information, contact Sue Halpern at shalpern@middlebury.edu.