Baritone Christian Gerhaher and pianist Gerold Huber to perform Oct. 13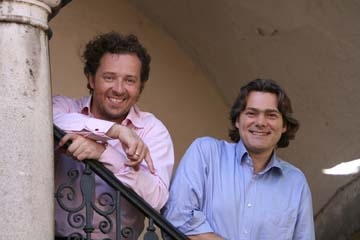 MIDDLEBURY, Vt. ? Internationally-renowned baritone Christian Gerhaher, accompanied by pianist Gerold Huber, will perform on Saturday, Oct. 13, at 8 p.m. at the Middlebury College Kevin P. Mahaney '84 Center for the Arts Concert Hall. The performance will feature a program devoted to Robert Schumann. 
Gerhaher has performed with some of the world's premier orchestras, including Simon Rattle and the Berlin Philharmonic, Mstislav Rostropovich and the Vienna Philharmonic, Andras Schiff and the Philharmonia, Franz Welzer-Möst and the Cleveland Orchestra, and Nikolaus Harnoncourt and the Amsterdam Concertgebouw. He sang the role of Papageno in Mozart's "Die Zauberflöte" in the Salzburg Festival's celebration of Mozart's 250th birthday, and has performed recitals at London's Wigmore Hall, the Konzerthaus and Musikverein in Vienna, and Carnegie Hall in New York. He has made recordings of all of Schubert's great song cycles, and of many of Schumann's songs.
Under exclusive contract with RCA Red Seal, Gerhaher's latest recording, "Abendbilder," which includes songs of Franz Schubert with Huber, was named the best solo vocal recording of 2006 by Gramophone Magazine.
According to a review in The Guardian, "[Gerhaher] is one of the remarkable new generation of German lieder-singers who have so strongly enriched the tradition carried to a peak by Dietrich Fischer-Dieskau. By any reckoning, these are among the very finest versions of each of the great cycles, with the singer's regular pianist, Gerold Huber, a comparably sensitive accompanist."
German pianist Gerold Huber appears frequently with Gerhaher, as well as with Ruth Ziesak, Cornelia Kallisch, Diana Damrau and Franz Josef Selig. He is the also the pianist of the vocal ensemble Liedertafel, consisting of James Taylor, Christian Elsner, Michael Volle and Franz-Josef Selig, and he has accompanied the Artemis Quartet. He has performed at major concert halls, including Philharmonie Cologne, De Singel in Antwerp, Wigmore Hall in London, Frick Collection New York, and Musée d'Orsay in Paris.
Huber studied with Friedemann Berger and Helmut Deutsch at the Musikhochschule in Munich, and with Dietrich Fischer-Dieskau in Berlin. In 1998 he was awarded the Prix International Pro Musicis in Paris/New York, together with Gerhaher, and the duo performed concerts in Paris and Carnegie Hall in New York. He was a prize winner of the International Johann-Sebastian-Bach-Wettbewerb Saarbrücken in 2001.
The performance is sponsored by the Middlebury College Performing Arts Series. The Middlebury College Mahaney Center for the Arts Concert Hall is located on South Main Street (Route 30). Tickets are $15 for general admission and $12 for seniors. For tickets and information, contact the Middlebury College Box Office at 802-443-6433 or www.middlebury.edu/arts.