Dateline Beirut: student completes journalism internship in Lebanon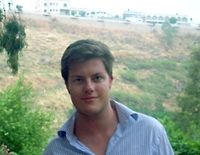 It was a quiet Sunday evening in the East Beirut neighborhood of Gemmayze when Middlebury College senior Theodore May felt his first bomb blast. He had been relaxing over a game of scrabble in a local pub after an intensely busy week as an intern reporter for the Lebanese newspaper, The Daily Star. Without warning the explosion shattered the calm, tearing through a nearby apartment building and sending shards of glass and rubble in all directions. As the reality of the situation sank in, May realized he was the closest reporter to the scene and quickly made his way to the site.
By some measures, this was a minor explosion - one death, several injuries and some seriously damaged buildings - but for May it was a shock to his system. Bomb blasts were rare during his internship, but this one was a sobering reminder of the civil strife that plagues so many parts of the country.
May had not set out to become a war correspondent. In fact, when he began his internship with the English language Daily Star last January he wrote many of the stories typically assigned to rookie reporters. There were Lion's Club fundraisers and a donation of garbage trucks by the European Union. But soon, perhaps inevitably, the complex issues of life in Lebanon found their way to his desk.
Over the course of his internship, May had more than 30 of his stories published in The Daily Star.
Theodore May explores the ruins of the Temple of Dionysus during his travels to the Bekka Valley, Lebanon
"One of the first things I learned as a journalist in Beirut is that you have to deal with the war angle at all times," May says. "In every story I wrote, war was a major player. It was a real challenge to keep things balanced."
May, a history major with a focus on Middle Eastern Studies, initially studied Arabic at Middlebury.  In the summer and fall of 2006 he enrolled in an intensive language program in Cairo, prior to his arrival in Lebanon. While in Cairo, he watched closely as the Israeli army and Hezbollah fighters battled each other for two devastating months in southern Lebanon. Just five months later, he was in Beirut, working 12-15 hour days, often seven days a week, and putting his language skills to the test. Although he was writing in English, he conducted many of his interviews in Arabic.
"After a little while at my internship, I noticed that media attention to the war had faded away," he said.  "I felt like there were still important stories to tell in the aftermath of the war, and I was lucky to have editors who would let me pursue them."
He began renting a car a couple of times each week and traveling to the southern part of the country to gather news from people whose lives were disrupted by the fighting. Lesson one, his editors told him, do not stray off the main road or you'll find yourself in land mines. His bosses were extremely vigilant about his safety, he notes, and provided excellent mentorship the whole time.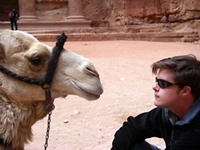 During a side trip May found himself in a staredown with a camel in front of the Treasury in Petra, Jordan.
Driving through farm country, he interviewed several farmers who had been hit especially hard by the fighting. "People had read all about the fighting and destruction, but they didn't necessarily know about the serious disruption to agricultural production - especially grapes, tomatoes, apricots, figs, oranges and bananas - during a very important time in the harvest cycle," May says. "Many farmers lost everything and had no way to make money. They were terrified of the unexploded cluster bombs strewn across the land and many simply didn't replant their fields based on the fear that fighting would resume in the coming summer. One shepherd I met was panicked because he had been losing sheep weekly to cluster bomb explosions."
May also spent time in embattled Palestinian refugee camps, writing articles about the daunting challenges facing refugees. In one story, he interviewed refugees amidst burning tires and sporadic gunfire during a tense standoff with the Lebanese army. Another article focused on how schools in the camps struggle to give children a dual sense of identity - both with their Palestinian roots and their Lebanese hosts.
Now, back in the calm familiar comfort of Addison County, a tidy portfolio in hand, it might be tempting to retreat into quieter territory. That's not what Theo May has in mind. He says his long-running interest in Arabic culture has become a full-fledged passion for Lebanon and he wants to return as soon after graduation as possible.
Are these the classic symptoms of an adventure junkie? Perhaps, but it would be oversimplifying to stop there. May thoroughly embraced life in Beirut and refused to let war and sectarian violence define his impressions of the country. "For all its problems, Lebanon is a wonderful and fascinating place with people working tirelessly to improve the situation each day," he says. "I found the Lebanese people inspiring because, even though their problems never go away, their resilience is overwhelming and they never accept defeat."
Equally important, he says this experience helped him discover his own journalistic voice and a new self-confidence. "There's nothing like screwing up culturally and linguistically 20 times a day to teach you how to pick up and move on," he laughs. "I had no choice but to dive in and it was really good for me."
May hopes that some day, with enough experience under his belt, he can bring an activist approach to his writing that will make a significant positive impact on society. "I know I only scratched the surface during my internship, but this experience helped me realize that journalism done correctly can really effect change for the better. I hope to be out there making that difference myself."