Dynamic dancers Nugent and Matteson to perform Nov. 9 and 10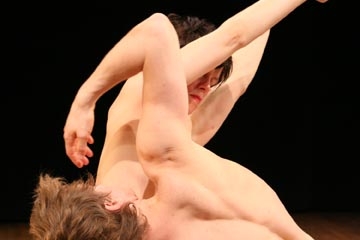 MIDDLEBURY, Vt. ? Acclaimed contemporary dancers Jennifer Nugent and Paul Matteson will offer two performances at the Middlebury College Kevin P. Mahaney '84 Center for the Arts Dance Theatre on Friday, Nov. 9, and Saturday, Nov. 10, at 8 p.m. The dance performances will be the culmination of the duo's three-day residency at the college.
Nugent and Matteson Dance was founded in 2005 by Jennifer Nugent and Paul Matteson, a 2000 graduate of Middlebury. Their work focuses on human relationships interacting in the moment on stage through dancing and sometimes speaking that is physical and phrased. There may be some nudity in their performances.
Each evening, the duo will present four dances, including a piece titled "Fare Well," which highlights the synchronized movements of the dancers within an atmospheric sound score by Edmund Mooney. The duet was described by Jennifer Dunning of The New York Times as "that rare work that lives up to its advance billing…a delight." A solo by Matteson, titled "Block Idol," with music by Michael Krassner, layers coming-of-age narratives with dynamic physical challenges. The third piece, "Semi-Formal," is a solo by Nugent of ballroom dance fantasies with live music by violinist Heather Somerland. "Saints Smother Swans," the final dance, is a new and highly technical piece choreographed by Terry Creach, of whom Erika Kinetz from The New York Times wrote: "Terry Creach's curiosity about what the human body itself might reveal about human beings is timeless." Lighting for the performance is by Middlebury College Light Designer and Tech Director of Dance Jennifer Ponder.
During their 2007-2008 season, Nugent and Matteson Dance has additional residencies in Russia, Seattle, New York, Utah and Florida. The duo will be preparing for a New York City performance season at Danspace Project for 2008. "Their resilience, their ability to duplicate moves when they dance side by side, and the speed with which each can accommodate to the other's new ideas bespeak understanding and respect, and symbolize love," wrote Deborah Jowitt of The Village Voice.
The performance is sponsored by the Middlebury College Performing Arts Series. The Middlebury College Mahaney Center for the Arts Dance Theatre is located on South Main Street (Route 30). Tickets are $15 for general admission and $12 for seniors. For tickets and information, contact the Middlebury College Box Office at 802-443-6433 or www.middlebury.edu/arts.