Middlebury College and Town Hall Theater form partnership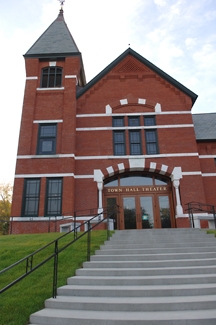 MIDDLEBURY, Vt. ? Middlebury College and Town Hall Theater, Inc., (THT) have formed a partnership that will benefit both organizations as well as the local community, according to college and theater administrators. The partnership allows the college regular use of THT's building, and calls for the college to provide THT with $1 million over the next 20 years. The money will support an addition to the southwest corner of the building for mechanical rooms and wing space.
It will also create opportunities for Middlebury College students to work with community members on theater productions and make more college performances accessible to the public.  
Administrators at both organizations stressed that the new arrangement further strengthens the relationship that already exists between the school and the theater.
Middlebury College President Ronald D. Liebowitz said, "This commitment by the college to THT will enrich the community's cultural life and, in doing so, provide for our students new and broader opportunities to further their educational experiences."
Douglas Anderson, THT executive director, said, "The extra financial security this brings THT is wonderful, but personally I'm thrilled by the way it will expand our offerings.  THT will be home to the Middlebury Community Players and many other community groups, but now our schedule will be enhanced by student and faculty productions - and in many cases, college students and local people will be working together.  Everybody wins."
Both Anderson and Liebowitz also expressed hope that once THT has opened it will attract people to downtown Middlebury and provide a boost to local businesses.
Middlebury Inn General Manager Jeff Costello said, "When THT is completed it will be a real center of activity and a real draw that will have a positive local economic impact.  Part of the project's strength is Doug Anderson's multifaceted plan for the space, which can be used for wedding receptions and other events.  It's nice too that events held there will not be weather dependent.  Also, some people aren't aware that the arts events at the college are open to the public and this partnership may help educate people in that regard."
Town Hall Theater is a grass-roots organization of over 200 local residents who began work in 2000 to save and restore one of the area's most historic buildings, which was built in 1883. Already completed are complicated and expensive measures to stabilize the structure, including a massive new slate roof; a painstaking restoration of the historic exterior; new front plaza; improved accessibility; and a garden on Pleasant Street. Interior renovations and the addition remain undone.
THT is extremely close to its $5 million fundraising goal. "We're not done yet," said Anderson.  "The college's support will allow us to improve the building in major ways, and the financial security it gives us will allow us to get to work on the building right away.  But we still need to raise $150,000 to match a $500,000 challenge grant from local donors, which will complete the project." 
Prior to establishing a partnership with THT, the college supported the theater with a donation of $125,000 in 2001, and then donated the same amount again in 2006.
Many Middlebury College students have performed in the THT building, and dozens of college, faculty and staff have participated in THT events and classes.  THT has also provided space to both the college's department of theater and student theater groups for the construction of sets and painting of large backdrops.
"Already there's a great cross-fertilization going on between the two organizations. It's a very old idea, really - students coming off the hill to entertain people in town. It goes back to the 19th century," said Anderson.
The agreement between THT and Middlebury allows for a variety of uses by a number of entities within the college.  The Middlebury College Language Schools, which have been pressed for performance venues, will have use of the building for three weeks every summer. The Language Schools will offer the local community an international performance festival, bringing everything from Russian choirs to French farce to downtown Middlebury ? free of charge.
Student groups will also benefit.  The student musical theater group, the Middlebury College Musical Players (MCMP), will stage performances there each year.  Training opportunities for Middlebury students will include at least one paid summer position and internships in theater management, technical theater, performance and arts education. 
Other possibilities include performances by the Riddim World Dance Troupe, a student organization; the college's many a cappella singing groups; and the college's Potomac Theater Project, a summer theater group that performs in New York City.
"We are going to have a season line-up that will be the envy of theaters in much larger towns," said Anderson.
— end —