Returning Emerson String Quartet gives free concert Nov. 2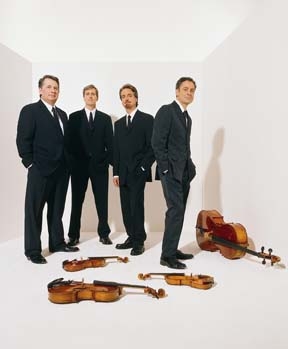 MIDDLEBURY, Vt. ? Considered by numerous critics to be America's finest quartet, the Emerson String Quartet will return to Middlebury on Friday, Nov. 2, at 8 p.m. for a free performance in Mead Chapel. Their program includes Haydn, Shostakovich and Beethoven, and the concert is made possible with generous support from the Institute for Clinical Science and Art, established by the late Dr. F. William Sunderman of Philadelphia. Mead Chapel is located on Hepburn Road off College Street (Route 125).
Formed in 1976 and together as the current four members since 1979, the Emerson String Quartet is based in New York City and includes violinists Eugene Drucker and Philip Setzer, cellist David Finckel and violist Lawrence Dutton. The group borrowed its name from American poet and philosopher Ralph Waldo Emerson.
Acclaimed for its insightful performances, dynamic artistry and technical mastery, the quartet has amassed an impressive list of achievements: a brilliant series of recordings exclusively documented by Deutsche Grammophon since 1987; eight Grammy Awards including two for "Best Classical Album," an unprecedented honor for a chamber music group; three Gramophone Magazine Awards, and performances of the complete cycles of Beethoven, Bartók and Shostakovich quartets in major concert halls throughout the world.
The ensemble is lauded globally for its approach to both classical and contemporary repertoire with equal mastery and enthusiasm. For three decades, the group has collaborated with such artists as Emanuel Ax, Misha Dichter, Leon Fleisher, the Guarneri String Quartet, Thomas Hampson, Lynn Harrell, Barbara Bonney, Barbara Hendricks, the Kalichstein-Laredo-Robinson Trio, Paul McCartney, Menahem Pressler, David Shifrin, Richard Stoltzman and the late Mstislav Rostropovich, Isaac Stern and Oscar Shumsky. In 2007, iTunes joined forces with the quartet to offer an exclusive three-disc retrospective of their work, a project featuring recording triumphs intermingled with personal interviews.
According to a review in The New Yorker, "The Emerson has the traditional string-quartet virtues; each player is a strongly characterized individual, but the ensemble is temperamentally as well as sonically in balance. The four minds play upon each other, and upon the work, in perfect harmony; the players are in tune in all senses of the phrase."
The 2006-2007 season marked the ensemble's "30/20 Anniversary," celebrating 30 years of quartet artistry and 20 years as an exclusive Deutsche Grammophon recording artist. Carnegie Hall honored the group with a historic eight-concert Perspectives Series, titled "Beethoven In Context," and held in Isaac Stern Auditorium. A reviewer in the New York Times wrote, "Concertgoers have come to count on these superb musicians, who are celebrating their 30th anniversary with this series and who continue to play with technical command, musical insight, vivid imagination and tireless enthusiasm."
In recent years, teaching has taken on a larger role for the group's members, now all in their 50s. Since the fall of 2002, they have worked as quartet-in-residence at Stony Brook University on Long Island, coaching chamber music, giving master classes as well as concerts, and providing instrumental instruction.
The group has close ties to Middlebury College as well. In 1992, they helped inaugurate the Center for the Arts Concert Hall at its gala opening. In 1995, Middlebury awarded each member an honorary doctoral degree.
The Emerson String Quartet has been featured in The New York Times Magazine, USA Today, Elle, Bon Appétit, Gramophone, The Strad and Strings. Television appearances include PBS's "NewsHour with Jim Lehrer," WNET's "City Arts," and A&E's "Biography of Beethoven" and "Breakfast with the Arts."
The Emerson String Quartet concert is free, and no tickets or reservations are necessary. For more information, contact the Middlebury College Box Office at 802-443-6433 or www.middlebury.edu/arts.