Russian pianist Polina Leschenko to perform Oct. 26
MIDDLEBURY, Vt. ? The celebrated young Russian pianist Polina Leschenko will perform on Friday, Oct. 26, at 8 p.m. at the Middlebury College Kevin P. Mahaney '84 Center for the Arts Concert Hall. Her program will feature works by Bach, Busoni, Chopin and Liszt.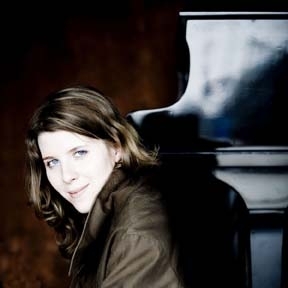 credit: Marco Borggreve
Born in 1981 in St. Petersburg to a family of musicians, Leschenko began playing the piano under her father's guidance at the age of six. She made her solo debut at age eight with the Leningrad Symphony Orchestra in St. Petersburg. She studied with Vitali Margulis, Pavel Gililov, Alexandre Rabinovitch-Barakovsky and Christopher Elton. At 16, she received her Higher Diploma with the greatest distinction from the Royal Conservatory in Brussels.
Leschenko's recent engagements include recitals in Berlin, Luxembourg and Milan. She made her debuts last season with Britain's Bournemouth Symphony Orchestra and Hallé Orchestra. In November 2006, she participated in a major tour with the Australian Chamber Orchestra, playing Mendelssohn's double concerto with Richard Tognetti. Other engagements this season include performances with the Russian National Orchestra, London Mozart Players and Scottish Chamber Orchestra, with recitals in Vienna, Minnesota, Atlanta and New York.
Leschenko has recorded for EMI in the series "Martha Argerich presents." (2004), performing works by Liszt, Chopin, Kreisler and Rachmaninov, Brahms and Bach, and Feinberg. She has also recorded Prokofiev chamber music with Martha Argerich, Christian Poltéra and Roby Lakatos for PureMusic in 2006. Her most recent recording - a Liszt recital, including the B-minor Sonata - was released by PureMusic in 2007. She is described by Gramophone as having "technical dexterity in abundance, and signs of a major artist in the making."
The performance is sponsored by the Middlebury College Performing Arts Series. The Middlebury College Mahaney Center for the Arts Concert Hall is located on South Main Street (Route 30). Reserved seating tickets are $15 for general admission and $12 for seniors. A pre-performance dinner begins at 6:30 p.m. at Rehearsals Cafe in the Center for the Arts. Reservations are required. For tickets or dinner reservations, contact the Middlebury College Box Office at 802-443-6433. Online tickets and information are available at www.middlebury.edu/arts.