Festive musical offerings for the holiday season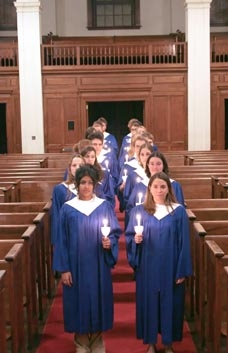 MIDDLEBURY, Vt. ? In the spirit of the holiday season, Middlebury College is offering a festive calendar of events and activities open to the public over the next few weeks.
On Sunday, Nov. 18, at 3 p.m. in Mead Chapel, the Middlebury College Community Chorus will perform a program titled "Simple Gifts: A Thanksgiving Celebration." The chorus is conducted by Jeff Rehbach, now in his 8th season leading the group, accompanied by George Matthew, Jr., who also serves as carillonneur of Middlebury College. The Thanksgiving program centers on the theme of a popular Shaker song that was originally composed in 1848 by Joseph Brackett while living in Alfred, Maine. The chorus will perform different arrangements, including those by American composer Aaron Copland, and feature two contrasting versions of "Now Thank We" - one by Baroque composer Johann Pachelbel and the other by contemporary British composer Bob Chilcott.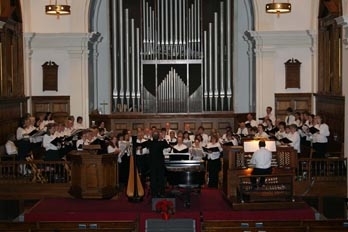 The program will also feature American poems including Robert Frost's "The Road Not Taken" from Randall Thompson's "Frostiana."
The Middlebury College Community Chorus dates back to the mid-19th century. Today, the chorus is open to all interested singers, including students, alumni, faculty and staff. It includes members from several area towns. This event is free and open to the public. More information is available at 802-443-3168 or www.middlebury.edu/arts.
On Saturday, Dec. 1, the Middlebury College Choir will perform "Wintersongs - Music of Light and Hope" at 8 p.m. in the Mahaney Center for the Arts Concert Hall. Middlebury College Assistant Professor of Music and Director of Choral Activities