Internationally celebrated organist Paul Jacobs to perform Dec. 2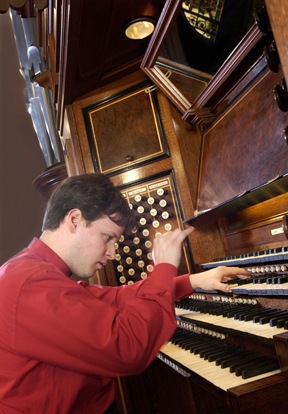 MIDDLEBURY, Vt. ? Celebrated organist Paul Jacobs will visit Middlebury College on Sunday, Dec. 2, to perform a program of music by Felix Mendelssohn, Maurice Duruflé, Louis Vierne and Julius Reubke on the Gress-Miles organ in Mead Chapel. The concert will take place at 3 p.m. and is sponsored by the Middlebury College Performing Arts Series.
Jacobs is widely applauded for his prodigious technique and charismatic stage presence. His repertoire spans the 16th century to contemporary styles, and he has performed throughout North America, as well as in South America, Asia, Australia and Europe. In 2003, Jacobs joined the faculty of The Juilliard School, and the following year was named chairman of the organ department - one of the youngest faculty appointments in Juilliard's history. He has, as a reviewer at the Cleveland Plain Dealer wrote, "risen to the top of his field with unusual speed."
Jacobs came to international attention in 2000 when, at the age of 23, he twice performed the complete organ works of J.S. Bach in 14 consecutive evenings in New York City and in Philadelphia. Later in the year he trumped that achievement by performing the complete works again in a spectacular 18-hour non-stop marathon in Pittsburgh. He is also well known for his Messiaen performances and has played the composer's entire output in nine-hour marathon concerts in eight United States cities since 2002 - Atlanta, Los Angeles, Minneapolis, San Francisco, Seattle, Washington DC, Chicago and New York. Following these performances, a reviewer at the Chicago Tribune called him "one of the most supremely gifted young organists of his generation," and The New York Times praised his "supple technique and vivid interpretive imagination."
Jacobs began studying the piano at the age of six and the organ at age 13. By age 15 he was appointed head organist of a parish of 3,500 families in his hometown of Washington, Pennsylvania. He went on to study at The Curtis Institute of Music in Philadelphia, where he double-majored in organ with John Weaver and harpsichord with Lionel Party. He subsequently received the Master of Music degree and Artist Diploma from Yale, studying organ with Thomas Murray. Most recently, Mr. Jacobs was invited to join the Yale University Council Committee on the School of Music by University President Richard Levin.
Jacobs has been honored with the Distinguished Alumni Award from the Yale School of Music and is the first organist ever to receive the Harvard Musical Association's Arthur W. Foote Award. Juilliard honored Jacobs with an appointment to the William Schuman Scholars Chair for 2007, named for a former president of the school and given annually to an artist and educator who has made significant contributions to both the intellectual and artistic life of the Juilliard community.
In addition to concert appearances and teaching, Jacobs has been a featured artist at national and regional conventions of the American Guild of Organists and performs frequently at festivals throughout the U.S. and abroad. He has appeared on American Public Media's "St. Paul Sunday" and "Pipedreams," Bavarian Radio, Brazilian Arts Television, ABC "World News Tonight," NPR's "Morning Edition," Australian Broadcasting Corporation and CBC Radio.
Performing Arts Series Director Paul Nelson commented, "The first notes of Paul Jacobs's recital here last December swept me away. It brought back a flood of memories: of the first music I ever heard performed, organ and choral music in a Lutheran church in Iowa; of my abandoned project to study organ in college and become a church musician; and of glorious organ playing heard at services and concerts in Mead Chapel spanning four decades. Paul Jacobs is one of the most gifted and accomplished musicians of our age."
The performance is sponsored by the Middlebury College Performing Arts Series. Mead Chapel is located on Hepburn Road off College Street (Route 125). Tickets are $15 for general admission and $12 for seniors at the Middlebury College Box Office at 802-443-6433. Online tickets and information are available at www.middlebury.edu/arts.