Middlebury hockey players help urban students shoot for college goals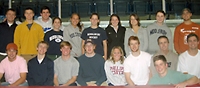 Middlebury, Vt. - A group of Middlebury College hockey players recently took a road trip, but this time it was not to do battle on the ice rink. The 26 Middlebury students traveled to public schools in the Roxbury section of Boston and in Harlem, Brooklyn, and the Bronx in New York City. The project, called "College Connect Day" paired the Middlebury students with kids from underserved urban communities to talk about the possibilities of college. Their mission was to fuel the dreams, imaginations and perseverance of students for whom college can seem like a long shot.
College Connect Day is one of the chief outreach activities of the Cornwall, Vermont-based organization College for Every Student (CFES). The trips give underserved school students a chance to ask questions about college, while opening the eyes of many Middlebury students to the real-life hurdles many of these kids face each day. The school students were all part of the CFES Scholars program, which means they participate in CFES-sponsored programs in their schools.
"These are students who go straight from school to work every day," marveled Scott Bartlett, a senior from Rochester, New York, who is a co-captain of the Middlebury hockey team. "Almost all of them had jobs, like internships at a hospital - things to set them apart and look good on their college applications."
Jerry Garfin, a retired high school principal working part-time as a CFES program director in New York, accompanied the Middlebury students to DeWitt Clinton High School in the Bronx as part of that day's College Connect event. Some 200 miles to the north, at Madison Park High School in Roxbury, Garfin's Boston based counterpart Duncan Scherer was observing similar interactions. For a few hours, the Middlebury students made the idea of college more real for students who rarely have college graduates within their families or their acquaintance.
"For most of the Madison Park kids, this was their first exposure to college," said Scherer. "They had a lot of questions about where the Middlebury students came from, what college life was like, and questions about the application process."
Ashley Bairos, a sophomore from Los Angeles who plays on Middlebury's women's hockey team, visited schools in the Bronx and Brooklyn and felt like the day ended too quickly. "We talked about different aspects of college life; we asked them about their favorite subjects," she said. "The kids were so engaging! They were so excited to hear from us! We were there for an hour and a half, and at the end we wanted to know, 'Is there another class we can visit?'"
College-focused, cross-cultural experiences like these are typical activities for CFES, which was founded in 1991 and now operates in 20 states. Its mission is to raise the academic aspirations and performance of underserved youth so that they can prepare for, gain access to, and succeed in college. This event, however, was on a much greater scale.
"This was the first time we've had large numbers of Middlebury students, specifically the student-athletes, visit large urban settings," said CFES President and CEO Rick Dalton. "It was a very nice, complementary experience, with mutual growth for both groups. I saw first-hand how well the Middlebury athletes established a rapport. There wasn't really a communication gap, or a relationship gap. They built bridges very quickly."
That was probably because the athletes - for the most part hockey players on the college's men's and women's teams - had had experience in community outreach. Since 1986 Head Men's Hockey Coach Bill Beaney has urged his players to become engaged in the communities surrounding the college, which is nestled in Vermont's Champlain Valley.
"So many of our students have become involved with mentoring and goal setting with the younger kids," said Beaney. "Through CFES our athletes have another opportunity to let students know how much work goes into their success, how to balance their responsibilities to the team, to their classes, to families and their academics, how to set goals and manage their time and make good decisions."
But it's not a one-way street. Assistant Coach John Dawson, a 2004 Middlebury graduate who participated in CFES mentorships and outreach when he was a student, said the experience puts the players' lives in perspective.
"It brings you back to reality," he said. "You see things you don't see here, like kids not having money for basic stuff, kids from single-parent families that are struggling. Without that exposure you can lose perspective on what's important."
While the older high school students were well on their way to reaching for college - as CFES Scholars some had even begun the college-application process - many of the younger students were just beginning to envision themselves in college. Some, said Ashley Bairos and Scott Bartlett, didn't know that you could live on a college campus; they didn't know what college majors were.
College Connect day helped to change that. "It can take CFES months to awaken in underserved youth the realization that they can and should set their sights on a college education," said Dalton. "It took only a few hours for 26 Middlebury College student-athletes to witness a little of the hardship those students face, and to be inspired by their own capacity to reach out and make a difference."