Do-it-yourself gourmets enjoy creative quest in dining hall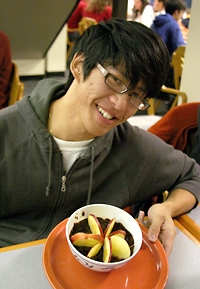 Story and photos by Elizabeth Pogust '09
It's dinner time at Middlebury College's Proctor Dining Hall and the stage is set for culinary creativity.  A number of student diners walk past the chicken and pasta in the hot food line without a second glance, instead heading for the panini machines and bountiful salad bar.  Even though the students are not in their kitchens at home, they still enjoy making their own food in the dining hall: salads garnished with beets, yellow raisins, and edamame beans; sweet and savory panini steaming with cheese or chocolate; and of course a host of various granola concoctions. 
Junior Aylie Baker enjoys her homemade sandwich, which she calls a "Vermonter," with turkey, melted cheddar cheese, and apples with cinnamon.  "If I don't feel like eating from the hot food line, I know I always have a tasty backup," she says as she sprinkles cinnamon on the apples and gently places the sandwich on the hot surface of the panini press.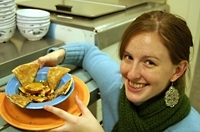 Leah Anderson, a junior, bakes cinnamon pita chips in the panini machine, then tops them with caramel sauce and granola.
Leah Anderson, a junior, crushes up olives from the salad bar, adds a few dashes of olive oil and seasonings to come up with a quick olive tapenade.  She is especially fond of Spanish food and plans to study abroad in Cordoba, Spain, next spring.
Dessert provides a whole other realm of creation.  Sophomore Diana Chiu fashions something akin to a trail mix trifle as she fills a bowl with yogurt, fruit, cinnamon, granola, almonds, raisins and chocolate chips.
Anderson sprinkles pieces of pita bread with cinnamon sugar before putting them in the panini press to make cinnamon chips.  She places them artfully in a bowl of apples with caramel sauce and granola to make a delicious dessert.  "Dinner is never boring for me because I am always thinking about something new I can try out."