Softball player goes to bat for those who need it most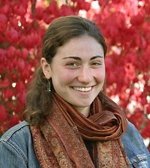 Middlebury, Vt — When Lily Hamburger arrived at Middlebury as a first year student, her passion for softball was beyond question. She brought intensity, intelligence and a pure joy to the game — qualities that became her trademark on campus both on and off the field.
"She is a natural outfielder, with a tremendous arm," says women's softball coach, Kelly Bevere, "but we didn't have a first baseman and I asked if she would be willing to move to first to fill the hole there. She said yes without hesitation, and did a great job, despite never having played the position before."
Her passion and natural leadership skills blossomed off the field as well, spurred in part by guest speaker she happened to see in the fall of 2006. Hamburger was among a handful of people who attended a talk by a Sudanese refugee named Abraham Awolich, who was on campus to talk about his nonprofit organization that works to build schools in southern Sudan. She couldn't help but contrast the sparse crowd with a talk she had heard just a day earlier by Chief Justice John Roberts, which drew standing-room-only crowds willing to endure a long cold rain to hear the chief justice speak.
While she understood the draw of celebrity, Hamburger still wished she could have translated some of the crowd's enthusiasm over to the Sudanese speaker.
Awolich is a survivor of Sudanese war atrocities who now directs the Burlington, Vermont based nonprofit New Sudan Education Initiative (NESEI). Earlier this year, NESEI won a $200,000 grant in the World Bank Development Marketplace Competition. The group has long-range plans to build and staff 20 new schools in southern Sudan, where educational access is among the lowest in the world. Awolich says the 2005 peace agreement between the north and south (separate from the Darfur conflict) has provided enough stability to make those plans feasible.
Hamburger, a senior from Silver Spring, MD, felt that Awolich and NESEI had an important message that needed to be heard by more people, and she saw an opportunity for action. She connected with anthropology professor Michael Sheridan, who had ties with NESEI, and figured out how the college could form a relationship to support the group's work. Along with fellow students, she organized fundraising events during winter term, a one-month semester that takes place in January, and was able to raise nearly $2,000 for NESEI.
She was pleased with the early success, but knew that it could easily vanish without a formal structure to keep things going. With Sheridan as advisor, she has formed an official student club called Stand Up, which will focus on issues of genocide and refugee issues around the globe. In the short term, the club will emphasize Sudan and Darfur because of the close ties to NESEI.
"We can now have a budget, apply for grants, and sponsor events," Hamburger notes. "The formal group makes it much easier to coordinate events and trips."
When she reflects on her career at Middlebury, Hamburger realizes that the paths were all pointing in a similar direction. As an environmental studies major with a history focus, she enjoyed great flexibility charting her educational path - in the classroom, as a varsity softball player, and while studying abroad. "One of the things Middlebury has allowed me to do is to work outside my major, Hamburger says. "The liberal arts thing is totally for me - I have taken classes across the board. If I didn't have to declare a major, I wouldn't have," she laughs.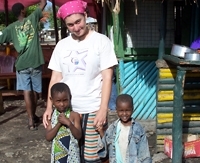 Lily Hamburger '07 studied in Tanzania during her sophomore year at Middlebury.
She says her experiences while at Middlebury also helped her discover her own passion for leadership and activism. In 2005, she spent what she describes as a transformative semester studying in Tanzania, bringing her longtime fascination with Africa to life. While she was there, she conducted an independent research project on water and health in remote rural villages. During the course of her work, she interviewed hundreds of women, who she says were willing to share deeply personal aspects of their lives with her. The experience, she says, was a eureka moment that became a tuning point in her academic career.
"I got to see people in their day-to-day lives, see their reaction to me as an American in their village, talk to them about water, talk to them about their health, their kids and families," she says. "All these factors came together and it was really catalytic in my understanding of the environment as it influences people and America as it influences rural Tanzania."
Hamburger came into college expecting to be a science major, perhaps geology. But as she dug deeper, she realized that she was more interested in the human side of environmental studies. "Environmental Studies can mean a lot of things - for me it's about people," she says.
Now, perhaps more quickly than she would wish, she is turning her attention toward post-graduation plans. With a firmly established travel bug, she can imagine herself going back to Africa or some other part of the world to pursue humanitarian and development work. She's equally intrigued at the potential of staying close to home and working at a place like Impact Silver Spring, a community development agency focusing on a large immigrant population, where she worked for several summers.
But the excitement - and anxiety - of entering the real world can wait one more semester. Lily has just been hired as assistant women's softball coach for the spring season. She played throughout her Middlebury career and is happy to be re-joining the squad in this new capacity.
Coach Bevere is thrilled to welcome her back. "I know that her conscientious manner and dynamic personality will be a tremendous asset to our team," says Bevere. "As a player, she will be missed, but as a coach, she will make her mark on the program for years to come."