Visualizing meal mileage: student's animated map traces complex journey from farm to plate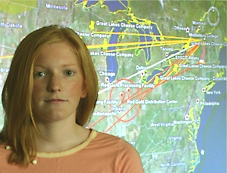 Middlebury, Vt. — Chicken parmesan with marinara sauce and pasta will never seem the same after you take a look at Kayla Race's food mapping research project. Through a summer internship, Race, a Middlebury College senior from Topsfield, Mass., created a colorful interactive mapping system that charts the often dizzying journey from farm to plate.
When you open Race's chicken parmesan map, you begin with a full view of the earth and then promptly zoom down to Middlebury. Clicking on a small icon she created for the college opens a window offering links to Middlebury's main food suppliers, which in turn offer links to their suppliers, sometimes with extra facts about where the food is raised (Quick, can you point to the Durum Wheat Triangle?).
To view details on the Food Mapping Project and to try the interactive animated maps,