Chamber music sensation the Florestan Trio to perform March 14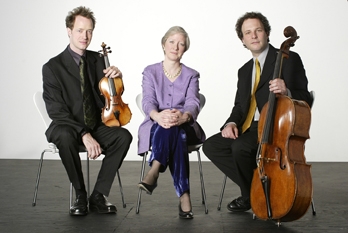 MIDDLEBURY, Vt. ? One of England's brightest stars on the chamber music scene, the Florestan Trio, returns to Middlebury for a performance of selections by Haydn, Ives and Brahms at 8 p.m., Friday, March 14, in the Middlebury College Kevin P. Mahaney '84 Center for the Arts Concert Hall. They have toured the United States to great acclaim, and return to Middlebury after a performance here in 2006.
Performing together since 1995, violinist Anthony Marwood, cellist Richard Lester and pianist Susan Tomes have impressed audiences worldwide. In 2000, the ensemble was the first piano trio to win Britain's Royal Philharmonic Society Award for chamber music. The group's recordings on Hyperion have received outstanding reviews. Their disc of the first two trios by Schumann won a 1999 Gramophone Award and a host of other accolades. Their recording of French piano trios is one of Hyperion's best-sellers, and their latest discs, of trios by Mendelssohn and Saint-Saëns, have gathered extraordinary praise in the past few months. According to a recent music reviewer at the San Francisco Chronicle, "The Florestan Trio defines great chamber music playing."
They celebrated their 10th anniversary season with the completion of their Beethoven recording cycle for Hyperion, and with three sold-out performances of the Beethoven Trios in London's Wigmore Hall. They are popular performers at major European venues, such as the Concertgebouw in Amsterdam, the Brussels Conservatoire, De Singel in Antwerp, and the Vienna Konzerthaus.
In May 2006, violinist Marwood was named Instrumentalist of the Year at the Royal Philharmonic Society Awards, confirming him as one of the most prestigious and versatile violinists of his generation. In January 2006, he became artistic director of the Irish Chamber Orchestra and of the Shannon International Music Festival. Since his concerto debut in London in 1993, he has collaborated with the major British orchestras and is now in increasing demand internationally. His recordings include Vivaldi's "Four Seasons" with the Scottish Chamber Orchestra, and he has made numerous recordings on the Hyperion label. He recently acquired the use of a beautiful violin by Carlo Bergonzi (1736), kindly bought by a syndicate of purchasers.
One of Britain's foremost cellists, Lester has earned distinction as a concerto and recital soloist and accomplished chamber musician. He performs both period and modern instrument pieces and is associated with some of the finest performers from both fields. He has appeared as soloist with numerous celebrated conductors and is frequently called upon by major London orchestras. Lester was a founder member of the celebrated ensemble Domus, with whom he toured worldwide. His interest in period performance led him to join Hausmusik, a flexible ensemble performing and recording classical and early romantic chamber music on period instruments. Recent highlights include a televised performance of Schubert's "Trout Quintet" with pianist Andras Schiff, as well as a new and acclaimed recording of Boccherini Quintets with the Vanbrugh Quartet.
Tomes is recognized as one of the finest pianists and chamber musicians of her generation. She was the first woman to read music at King's College, Cambridge, which had been exclusively male for more than 400 years. She went on to be a founding member of the award-winning group Domus, which traveled the world with its own portable concert hall, a geodesic dome. When Domus disbanded in 1995, she joined forces with Marwood and Lester to form the Florestan Trio. Her discography includes over forty recordings of solo, duo and chamber music, many of which have won international awards. In recent years, her career as a writer has placed her in the forefront of commentators on performance issues. In April 2004 she published her first book, "Beyond the Notes," a collection of diaries and essays about performance, and her second book, "A Musician's Alphabet," was published in 2006.
The trio has founded a charitable company, The Florestan Trust, which develops public awareness and knowledge of music through the presentation of concerts, educational work and commissioning new works.
The performance is sponsored by the Middlebury College Performing Arts Series. Reserved seating tickets are $15 for general admission and $12 for seniors. A pre-performance dinner begins at 6:30 p.m. at Rehearsals Cafe in the Center for the Arts on South Main Street (Route 30). Reservations are required. For information, tickets or dinner reservations, contact the Middlebury College Box Office at 802-443-6433, or visit the Web site at www.middlebury.edu/arts.