Leyya Tawil and Dance Elixir to perform March 8 and 9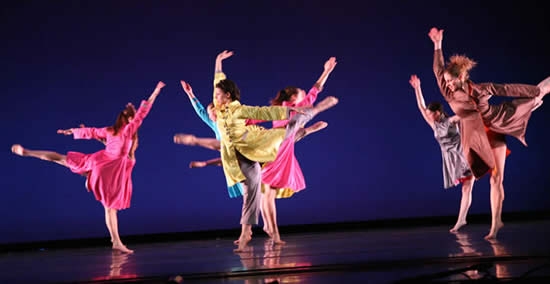 MIDDLEBURY, Vt. ? Middlebury College Artist-in-residence Leyya Tawil brings her signature company Dance Elixir to the Middlebury College Kevin P. Mahaney '84 Center for the Arts Dance Theatre on Saturday and Sunday, March 8 and 9, at 8 p.m.
The two performances will feature a powerful and insightful series of choreography grounded in the power, weight and speed of the human body to investigate contemporary culture. The series, called "Capital Life Triptych," is the result of Tawil's research during her artist residency in Beirut, Lebanon, this past winter. The program also features their recent repertory work "Raincoat Rebellion," performed with an original score by composer Stephen Rush. Additional collaborators include experimental-music artist Mark Gergis, known for his ethnographic research and composition in music and film; installer Malinda Trimble; costumer Leigh Anne Martin; and Dance Elixir's resident composer Topher Keyes.
Tawil and Keyes founded Dance Elixir in 2003. Together they have pursued a collaboration based vision of contemporary dance creation and performance. Dance Elixir produces an annual home season in the San Francisco bay area and tours nationally. The artists of Dance Elixir are hailed by critics for their glamorous aesthetic and fierce technique.
Born in Detroit, Mich., to Palestinian and Syrian parents, Tawil enjoys exploring aspects of contemporary urban culture through her collaborative projects. She works in a movement style that integrates momentum, precision and personality. She has performed, choreographed and taught nationally for the last 13 years. This January marks her first international collaboration with Maqamat Theatre Dance in Beirut.
Tawil has held faculty positions at the University of Michigan in Ann Arbor, the University of San Francisco and Sonoma State University. She is currently the Middlebury College Artist-In-Residence in Dance. Leyya is also co-director of the Temescal Arts Center, a low-cost performance and rehearsal space in Oakland. She served on the Isadora Duncan Dance Awards Committee from 2003-2006.
Keyes has created original scores and sound design for Erica Essner Performance Co-op, EmSpace Dance, Shotgun Players, African American Shakespeare, Los Medanos College Theater, Black Box Theatre and the Speakeasy Theatre. As an observer, performer and collaborator, his time in the San Francisco area has helped him develop a greater interest and understanding of the dance world. Through participation in regular rehearsals and interaction with other artists, his music has naturally emerged from the choreography.
Tawil and Keyes have been creating and producing work together since 1997 and their collaborations have been presented most recently by the Yerba Buena Gardens Festival in San Francisco; Contemporary Art Institute of Detroit; Arab American National Museum in Dearborn; and Oakland Art Gallery.
They have collaborated with artists from a wide variety of disciplines, including composer Stephen Rush; media installation artist David Szlasa; designer Jeffery Bauer; scenic artist Doug Baird; video artist Cristina Waltz; lighting designer Matthew Antaky; visual artist John Writer; costumers Scott Tallenger and Leigh Anne Martin; percussionist Christopher Froh; double bassist Damon Smith; and violinist Mike Khoury.
The performance is sponsored by the Middlebury College Performing Arts Series and is part of the 15th anniversary celebration and dedication of the Mahaney Center for the Arts. The Middlebury College Mahaney Center for the Arts is located on South Main Street (Route 30). Tickets are $15 for general admission and $12 for seniors. For tickets, contact the Middlebury College Box Office at 802-443-6433 or www.middlebury.edu/arts.