Renaissance chorale ensemble The Tallis Scholars to perform March 1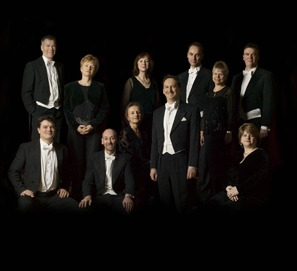 MIDDLEBURY, Vt. - The Tallis Scholars, considered by many to be superstars in the world of Renaissance music, will make a stop on their 2008 United States tour for a concert at Middlebury College at 8 p.m., Saturday, March 1, in Mead Chapel, located on Hepburn Road off College Street (Route 125).  
 The acclaimed choral ensemble last performed at the college in 2006. The program for their return will feature Tomas Luis de Victoria's "Requiem," a work that ensemble director Peter Phillips calls the greatest choral achievement of the Renaissance.
Founded in 1973, the legendary Tallis Scholars have specialized in performing sacred choral music, though they are known for commissioning new work as well. Phillips has dedicated himself to the research and performance of Renaissance music. He began his efforts in 1972 at Oxford University and continues to this day to learn, understand and ultimately recreate and preserve with modern voices the sounds of long ago. 
"Part of my annual routine for the last 10 years has been to take a course in Evora, Portugal," said Phillips. "The composers I study are not exactly household names, though the Tallis Scholars' recording of 'Requiem' by Cardoso has sold particularly well over the years. The first half of this program is devoted to showing them off at their best, the most substantial works coming from Cardoso. Victoria's six-voice 'Requiem' is arguably the greatest single piece of music to have been written in the High Renaissance. The Spanish of this period were famous for their mystical interpretation of Catholicism, and Victoria packs it all in to this masterpiece."
According to a recent review in The New York Times, "The Tallis Scholars remains one of the best ensembles performing this music now, and its sound is as richly blended and as beautiful as ever . Mr. Phillips and his 10 singers produced the admirably polished, seamlessly blended sound that has become their trademark."
In more than 30 years, The Tallis Scholars have performed over 1,000 concerts around the world. They appear in both sacred and secular venues, from modern concert halls to Rome's revered Sistine Chapel. They have performed alongside Paul McCartney in New York and at the Bolshoi Theatre in Moscow.
Beyond live performances, The Tallis Scholars are known for their prolific recordings of Renaissance polyphonic masterpieces. The ensemble records on its own label, Gimell Records, and has won acclaim both in the early music genre and for overall classical excellence. The group has received the coveted Gramophone Record of the Year award, gold honors from the French magazine Diapason, and accolades from Classic FM, a leading classical radio station in the United Kingdom. All of these honors and many others have helped secure The Tallis Scholars' place in the music world as a true authority on Renaissance repertoire. According to Gramophone magazine, "They have surely contributed more than any other group to making renaissance choral music with mixed voices a commercial reality."
The concert is sponsored by the Middlebury College Performing Arts Series. Tickets for the concert are $15 for general admission and $12 for seniors. For tickets or information, contact the Middlebury College Box Office at 802-443-6433 or visit online at www.middlebury.edu/arts.