First-ever spring break quidditch tour March 22-29
MIDDLEBURY, Vt. ? When the Middlebury College quidditch club launches its spring break road trip from March 22-29, they will be no less than missionaries, spreading the gospel of intercollegiate quidditch to colleges throughout the Northeast. The Middlebury squad has set up visits to eight schools, including Bard College, University of Pennsylvania, Princeton, Columbia, Vassar, Wesleyan, Amherst and Dartmouth. At each location they will provide all the equipment and instruction, and direct an intercollegiate match.
In 2005, students at Middlebury created earth-bound rules for the famous sport depicted in the Harry Potter novels. Since then it has grown into a major phenomenon at the college, with more than 400 students playing in the Middlebury league. The club created a Facebook page called the Intercollegiate Quidditch Association to spread the word and standardize the rules. It now has nearly 65 member colleges from across the country.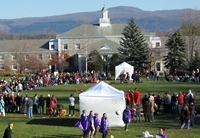 The 2007 Intercollegiate World Cup at Middlebury College.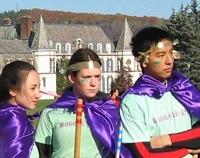 Pre-match game faces
Of course certain adaptations were necessary to translate quidditch into a terrestrial sport. Players don't fly, but are required to keep the specially designed brooms between their legs at all times. The golden snitch - in the books a magical flying sphere that can instantly determine the outcome of a match - is actually a live person who runs on and off the playing field at will. The scoring is done through a series of golden hoops erected at either end of the field.
Middlebury College junior Alexander Benepe, who co-founded the club and serves as its commissioner, says the sport offers an unusual mix that makes it a natural for college students. "Intercollegiate quidditch is athletic, highly competitive, somewhat absurd, and very funny," says Benepe. "That's why we're hoping to expand the intercollegiate potential with our spring break tour. We plan to invite all the colleges we visit to play in our Intercollegiate Quidditch Cup competition at Middlebury next fall." Benepe and others are featured in a short documentary film about Middlebury quidditch, which can be viewed online at:
.
For more information, contact the Middlebury College Public Affairs Office at 802-443-5198.
To follow is a calendar listing of events for the quidditch tour:

Sat. March 22 - Bard College, Annandale-on-Hudson, N.Y.
Sun. March 23 - University of Pennsylvania, Philadelphia, Pa.
   Highrise fields, 40th and Walnut, 3-5 p.m.
Mon. March 24 - Princeton University, Princeton, N.J.
   Alexander Beach (quad in the middle of campus), 3-5 p.m.
Tues. March 25 - Columbia University, New York, N.Y.
   Astroturf field at Riverside Park and 101st street, 3-5 p.m.
Wed. March 26 - Vassar College, Poughkeepsie, N.Y.
   Bossey Field, 3-5 p.m.
Thurs. March 27 - Wesleyan University, Middletown, Conn.
   Andrus Field, 3-5 p.m.
Fri. March 28 - Amherst College, Amherst, Mass.
   Freshman Quad, 3-5 p.m.
Sat. March 29 - Dartmouth College, Hanover, N.H.
   The Green, 3-5 p.m.