Science writer Robert Sapolsky to speak about coping with stress April 10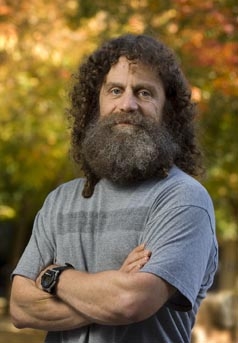 MIDDLEBURY, Vt. ? Robert Sapolsky, a well-known expert on issues of stress and stress-related disorders, will deliver a lecture titled "Why Zebras Don't Get Ulcers: Stress, Disease and Coping" on Thursday, April 10, at 7:30 p.m. in Mead Chapel, located on Hepburn Road off College Street (Route 125). The lecture is part of the annual Middlebury College Convocation Series.
Sapolsky is a professor of biology and neurology at Stanford University, and a research associate with the Institute of Primate Research at the National Museum of Kenya. He has focused his research on issues of stress and neuron degeneration, as well as on the possibilities of gene therapy strategies for help in protecting susceptible neurons from disease. He is known for his animated lecture and writing style, which helps communicate intricate scientific information in a humorous and accessible way. He is currently working on gene transfer techniques to strengthen neurons against the disabling effects of glucocorticoids.
He is the author of several bestselling books including "A Primate's Memoir: A Neuroscientist's Unconventional Life Among the Baboons," "The Trouble with Testosterone: And Other Essays on the Biology of the Human Predicament," and "Why Zebras Don't Get Ulcers" (1994), in which he examines how prolonged stress can cause or contribute to damaging physical and mental afflictions.
Sapolsky has received numerous honors and awards, including the prestigious MacArthur Fellowship, an Alfred P. Sloan Fellowship, and the Klingenstein Fellowship in Neuroscience. He received the National Science Foundation Presidential Young Investigator Award and the Young Investigator of the Year Awards from the Society for Neuroscience, the Biological Psychiatry Society, and the International Society for Psychoneuro-Endocrinology. He also serves on the editorial boards of several journals, including the Journal of Neuroscience, Psychoneuroendocrinology, and Stress and is a contributing editor for The Sciences.
The event is co-sponsored by several Middlebury College departments and organizations, including the Office of the Dean of the College, the Charles P. Scott Center for Spiritual and Religious Life, the Center for Counseling and Human Relations, the Office of Health and Wellness Education, and the ad-hoc Committee on Stress. For more information, contact Ellen McKay, program coordinator for the Scott Center, at 802-443- 5626 or emckay@middlebury.edu.