Harvard Law professor and social justice pioneer Lani Guinier to speak April 30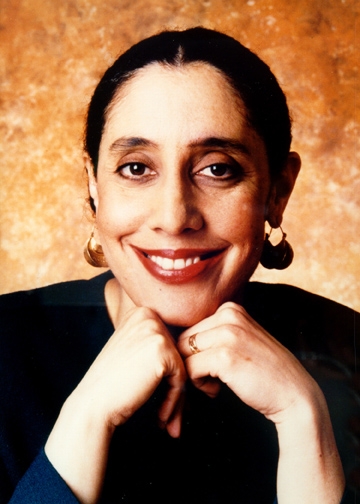 MIDDLEBURY, Vt. - Social justice advocate Lani Guinier will give the 2008 John Hamilton Fulton Lecture in the Liberal Arts on Wednesday, April 30, at 8 p.m. in Middlebury College's Mead Chapel on Hepburn Road off College Street (Route 125). Guinier's talk is free and open to the public, and will be based on her forthcoming book titled "Meritocracy Inc.: How Wealth Became Merit, Class Became Race, and College Education Became a Gift from the Poor to the Rich." A reception will follow in McCullough Social Space, located on Old Chapel Road off College Street.
In July 1998, Guinier became the first black woman tenured professor in Harvard Law School's history. The appointment was yet another milestone in a previously distinguished yet challenging legal career. Guinier first came to public attention in 1993 when President Clinton nominated her as the first black woman to head the Civil Rights Division of the Department of Justice. Prior to that, she had been a civil rights attorney for more than 10 years and served in the Civil Rights Division during the Carter administration as special assistant to Assistant Attorney General Drew S. Days. After Clinton's nomination, conservatives attacked Guinier's views on democracy and voting, driving Clinton to withdraw her name without a confirmation hearing. The experience encouraged Guinier to use subsequent public speaking opportunities to discuss issues of race, gender and democratic decision-making.
Today she is one of the nation's most sought after speakers. She has written extensively, including books such as "The Tyranny of the Majority" (1994);" Becoming Gentlemen: Women, Law Schools and Institutional Change" (1995); "Lift Every Voice: Turning a Civil Rights Setback Into a New Vision of Social Justice" (1998), a personal and political memoir; and "The Miner's Canary: Rethinking Race and Power" (2002), which she co-authored with Gerald Torres. She has authored articles for law reviews as well as op-ed pieces on issues of affirmative action, gender equity and race conscious political districting.
She attended Radcliffe College and Yale University Law School, and was inspired at a young age by trailblazing civil rights attorney Constance Baker Motley. Following in Baker Motley's footsteps, Guinier joined the NAACP Legal Defense Fund (LDF) and in the 1980s, she headed LDF's voting rights program, litigating cases throughout the South. 
Before joining the Harvard Law School faculty, Guinier was a tenured professor at the University of Pennsylvania. At Harvard, she teaches courses on professional responsibility for public lawyers, law and the political process, and critical perspectives on race, gender, class and social change. She has been recognized for her achievements with many awards, including the Champion of Democracy Award from the National Women's Political Caucus; the Margaret Brent Women Lawyers of Achievement Award from the Commission on Women in the Profession; the Rosa Parks Award from the American Association of Affirmative Action; the Big Sisters Award; the Sacks-Freund Award for Teaching Excellence from Harvard Law School; and the Harvey Levin Teaching Award, given to her by her students at the University of Pennsylvania Law School.
The John Hamilton Fulton Lecture in the Liberal Arts was established at Middlebury College in 1966. The late Alexander Hamilton Fulton, an emeritus member of the Middlebury College board of trustees, donated the gift that established the lectureship, which is named in honor of his father.
Previous Fulton lecturers have included Beverly Sills, James A. Baker III, William H. Rehnquist, Wynton Marsalis and Elie Wiesel.
For more information, contact Middlebury College Coordinator of Diversity Initiatives in the Office for Institutional Planning and Diversity Jennifer Herrera at 802-443-5743 or jherrera@middlebury.edu.