Middlebury team places first at the 2008 computer programming competition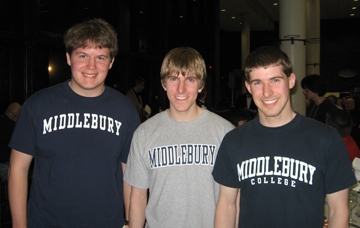 MIDDLEBURY, Vt. - For the second year in a row, a group of three Middlebury College students finished first in a computer programming contest held on April 11 at Wagner College in New York.
The Middlebury team included senior Jeff Wehrwein, sophomore Scott Wehrwein and first-year student David Fouhey. The group was coached by Middlebury College Associate Professor of Computer Science Tim Huang and Associate Professor of Mathematics Frank Swenton.
The annual competition, conducted by the Consortium for Computing Sciences in Colleges Northeast Region (CCSCNE), tests students' abilities to work collaboratively within a limited time to develop computer programs for specific problems. The team that solves the most problems wins, and ties are broken based on the amount of time used. The contests challenge students to think both analytically and creatively, to work quickly but carefully, and to cooperate with each other. This year, none of the 27 teams solved more than four of the six problems, and of those that solved four, Middlebury's team used the least amount of time.
CCSCNE strives to bring together faculty, staff and students from academic institutions throughout the Northeast for the exchange of ideas and information concerning undergraduate computing curricula in a smaller academic environment.