New Yorker staff writer George Packer to speak April 15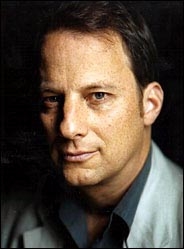 MIDDLEBURY, Vt. ? George Packer, award-winning staff writer for the New Yorker and accomplished author, will speak on Tuesday, April 15, at 4:30 p.m. The lecture, titled "Bringing the Iraq War Back Home," is part of the college's "Meet the Press" series and will take place in Dana Auditorium in Sunderland Language Center, located on College Street (Route 125). The event is free and open to the public and will include time for audience questions.
Packer has traveled numerous times to and from Iraq for the last five years and has written extensively about the war. He is the author, most recently, of "The Assassins' Gate: America in Iraq," which was named by The New York Times as one of the 10 best books of 2005. He has published two other works of nonfiction, "The Village of Waiting" (1988) and "Blood of the Liberals" (2001), which won the 2001 Robert F.  Kennedy Book Award. He has also published two novels, "The Half Man" (1991) and "Central Square" (1998), and is the editor of "The Fight Is for Democracy: Winning the War of Ideas in America and the World" (2003). His articles, essays, and reviews on foreign affairs, American politics, and literature have appeared in The New York Times Magazine, Harper's, Dissent, and other publications. His work has won four Overseas Press Club awards. He was a 2001 Guggenheim Fellow and has taught writing at Harvard, Bennington and Columbia. His first play, "Betrayed," based on a New Yorker article, opened in New York in February 2008.
Packer's talk is co-sponsored by several Middlebury College organizations: Atwater Commons, the Rohatyn Center for International Affairs and the English Department. "Meet the Press" was established in 2003 by author and Scholar in Residence in English Sue Halpern. The lectures, presented under the auspices of the Middlebury College Institute on Working Journalism, are designed to bring newsmakers - reporters, editors, critics, photojournalists, bloggers and editorialists - to the Middlebury campus.
For more information, contact Sue Halpern at shalpern@middlebury.edu.