Youthful string sensation Pavel Haas Quartet to perform April 19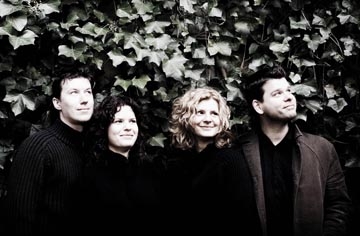 MIDDLEBURY, Vt. ? The dynamic and youthful string ensemble, Pavel Haas Quartet, will perform in the Concert Hall of the Kevin P. Mahaney '84 Center for the Arts at Middlebury College on Saturday, April 19, at 8 p.m. The evening's program includes Janácek's "Kreutzer Sonata," Dvorák's "American" Quartet, and Beethoven's Opus 132.
The Pavel Haas Quartet is made up of Veronika Jaruskova and Maria Fuxova on violin, Pavel Nikl on viola and Peter Jarusek on cello. Since winning the Italy's Paolo Borciani competition in 2005, the group has become known to audiences, critics and promoters around the world as one of today's most exciting young string quartets.
Based in Prague, they have studied with some of the masters of the quartet world, including members of Quartetto Italiano, Quatuor Mosaiques and the Borodin and Amadeus Quartets. They travel extensively throughout Europe to perform at locations including the Musée du Louvre in Paris, London's Wigmore Hall, Vienna Konzerthaus, Salzburg Mozarteum, Amsterdam Concertgebouw, Stockholm Konserthuset, Birmingham Symphony Hall, Alte Oper in Frankfurt and Carnegie Hall in New York.
In 2006 the quartet was nominated by the Cologne Philharmonie as one of the European Concert Hall's "Rising Stars," and in 2007, BBC Music Magazine Awards named them best "Newcomer of the Year." Their debut recording was released in 2006 to outstanding reviews by The Daily Telegraph, BBC Radio and BBC Music Magazine.
The quartet's name refers to the Czech composer Pavel Haas (1899-1944), who was tragically deported from Czechoslovakia in 1941 and died at Auschwitz three years later. His legacy includes three wonderful string quartets.
In 2007, a reviewer for BBC Music Magazine wrote, "What is so impressive about this debut is the group's bold, original approach to this famous repertoire. They are technically beyond reproach and convey, with almost graphic immediacy, Janácek's searing passion. They present us with the finest, most vivid account of Haas's second quartet on disc." 
The performance is sponsored by the Middlebury College Performing Arts Series. Reserved seating tickets are $15 for general admission and $12 for seniors. A pre-performance dinner begins at 6:30 p.m. at Rehearsals Cafe in the Mahaney Center for the Arts, located on South Main Street (Route 30). Reservations are required. For information, tickets or dinner reservations, contact the Middlebury College Box Office at 802-443-6433 or www.middlebury.edu/arts.