Middlebury senior rallies campus for disaster relief in Myanmar and China
Middlebury, Vt - Middlebury College senior Sarah Luehrman had an abrupt change to her senior week plans when news came of the devastating disasters in Myanmar and southwestern China. What might have been a week of relaxing, socializing and getting ready for commencement turned into a flurry of logistical details as she quickly planned a 5K run to benefit relief efforts.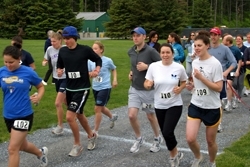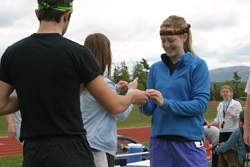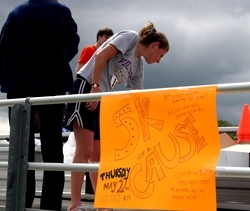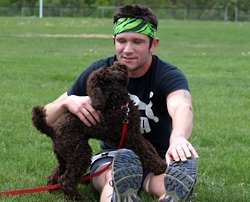 Like many of her fellow students, Luehrman, who is double majoring in Italian and political science, wanted to help somehow, but wanted to do something more than just sending cash.
"I love road races and wanted to do something more than just donating money to help the disaster victims," Luehrman said. "So I decided to organize a 5K race to benefit some organizations I really think are doing good things."
Nearly 60 people turned out for the race on a cold, gloomy morning that felt more like mid-October than late May. It was an encouraging response for Luehrman who put the event together in just five days. The event raised more than $1,000.
"I got this idea last Friday and I just started emailing everybody I knew on campus who I thought might be able to help me organize this," said Leuhrman.  "My friends have been wonderful and all of them volunteered to help in any way they could. We've been harassing people in the dining hall and setting up tables everywhere to get the word out. We got a pretty good group and I'm really excited!"
The field of runners included students, faculty, staff, alumni and community members. President Ron Liebowitz was also on hand to wish the runners well. Luehrman says she was especially happy to see her staff friends from the International Programs and the Off Campus Study Office. "It seems like they sent pretty much everyone from their office down to run together," she said.
Half of the money raised from the event will go to Ecologia, a sustainable relief organization based in Middlebury with an office near one of the hardest hit areas in Chengdu, Sichuan Province. Through a system of microloans, the organization is helping to rebuild the area with more earthquake resistant buildings than before. The other half of the proceeds will go to AmeriCares, another relief agency that has successfully brought medical assistance to people in Myanmar who were hit by the recent catastrophic cyclone.
Ecologia President - and Middlebury parent - Randy Kritkausky thanked and congratulated the runners at the start of the race. He says that funds from the 5K run and other fundraising efforts will enhance their efforts to improve life in that region. "Our work is aimed at helping people over the long term," says Kritkausky. "We were there before the earthquake in that region just by coincidence. We had a microfinance project to help people alleviate poverty and now we're just adding a new dimension to it by giving loans to reconstruct houses in a green and more sustainable way."
Currently a group of Middlebury alumni are working on earthquake relief with Ecologia in the affected areas. Another group of Middlebury students from China will be joining the effort this summer. The combined efforts of current and former students are a prime example of what Kritkausky and Tiffany Sargent, director of the college's Alliance for Civic Engagement refer to as "continuous engagement" - that is, the opportunity to look at and work on the problem and stay engaged for several years. "The idea is that they get to see how things work in the long term rather than just getting a snapshot for a short period and then wondering if anything they did lasted," said Kritkausky. "I think it's the perfect learning model, actually."
As the first of the runners reappeared in the distance headed toward the finish line, Leuhrman was unsurprised at the familiar face of Assistant Professor of Political Science Bert Johnson who held a substantial lead over the rest of the field. With reverence in her  voice, Leuhrman noted that her former professor is also a veteran marathon runner who has run the Boston Marathon twice. "Hooray for old guys!" Johnson shouted as he crossed the finish line.
For more information about Middlebury College student relief efforts in China and Myanmar, contact the college's Alliance for Civic Engagement at 802-443-3212 or visit their Web site.
—end—