Fifty-Year Campus Master Plan Charts Sustainable Future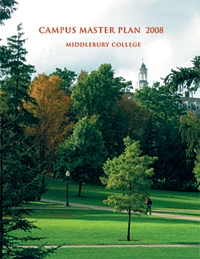 MIDDLEBURY, Vt. - The Middlebury College board of trustees approved the most far-reaching and environmentally progressive campus master plan in the college's 208-year history at their annual May meeting. The plan, which was built on a foundation of sustainability principles, will guide the college's growth and development for the next 50 years.
In 2006, on completion of the college's strategic plan, "Knowledge Without Boundaries," Middlebury President Ronald D. Liebowitz charged a committee of trustees, faculty, staff and students with developing a new and visionary campus master plan to support the goals of the strategic plan. The group was assisted by Michael Dennis & Associates, a Boston firm that specializes in campus planning and architecture.
An in-depth slideshow presentation of Michael Dennis's presentation to the campus community is available online. Click here to view.