Four Middlebury students to hold Islam-West unity event in New York City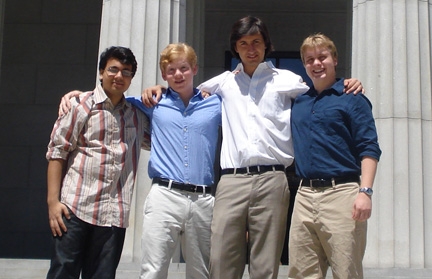 By Thomas Brant '10
Heal the Rift, a project started in 2007 by four Middlebury students to address tensions between the Muslim world and the West, will hold a rally July 19 from 3 to 6 p.m. in New York City's Washington Square Park.
The event will bring together a diverse set of performers and speakers from around the globe, including Amish Dar, a Pakistani-born guitarist and vocalist, and Zerobridge, a band made up of American and Kashmiri members.
Omar Ashmawy, a prosecutor and defense counsel in the United States Air Force and an outspoken critic of fundamentalist Islam, will join several other speakers, including Lance Trumbull, who organized the first joint Palestinian-Israeli peace climb of Mount Everest.
Organizers expect as many as 1,000 people to attend the event on Saturday.
Middlebury College sophomores Nick Alexander, Alexander Kent, Shujaat Ali Khan and Saad Ahmed Khan established Heal the Rift and received a $10,000 dollar grant in March from the Davis Projects for Peace program, started in 2007 by philanthropist Kathryn Wasserman Davis.
According to the group's Web site, the project's goal is to remind the world that Muslims and the West share the same basic values, that Islam is not a religion of violence, and that Muslims and Westerners alike seek freedom and justice. The group hopes its efforts will provide an opportunity for Americans and Muslims to reject the status quo and generate a new climate of understanding in which peace and coexistence are possible.
Planning for Saturday's event allowed the students to meet important Muslim and Western scholars and activists. They also learned about and overcame the difficulties of planning a large public event in New York City.
"We learned how to draw up and negotiate contracts with the performers and speakers, and we had to get permits from the New York City Department of Parks and Recreation and Police Department," Nick Alexander said.
According to Alexander, the team hopes to hold more events like the one on Saturday, including some events in Pakistan.
In addition to the Davis fund grant money, Heal the Rift has raised approximately $7,000 from other sponsors, including Middlebury's Digital Bridges 2.0 program.
For more information about Heal the Rift, visit www.healtherift.org.
—end—