International education expert Allan E. Goodman tells Language School students their skills are critical for understanding the world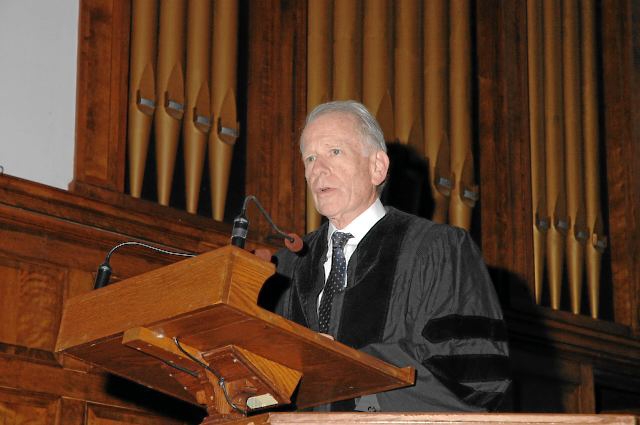 MIDDLEBURY, Vt. - The Middlebury College Language Schools held commencement for the 94th summer session in Mead Chapel on Friday, Aug. 15, at 5 p.m.
Middlebury College President Ronald D. Liebowitz and Vice President of the Language Schools, Schools Abroad and Graduate Programs Michael Geisler awarded degrees to 151 Master of Arts candidates in Chinese, French, German, Italian, Russian and Spanish. Six candidates received doctorates in modern languages. Awards for distinguished study were also given to select students in the schools of Arabic, Hebrew, Japanese and Portuguese.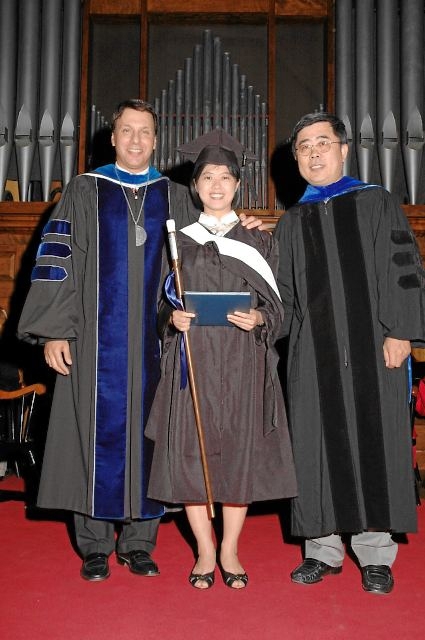 Middlebury College President Ronald Liebowitz (left) joins Middlebury Chinese School Director Jianhua Bai (right) in congratulating Naichi Shih of Taiwan as the college's first recipient of a master of arts in Chinese.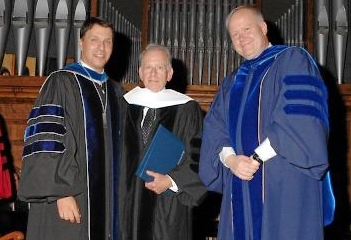 President Liebowitz with commencement speaker Allen E. Goodman (center)and Vice President of Language Schools Michael Geisler.
Allan E. Goodman, president of the Institute of International Education (IIE), delivered the commencement address and was awarded an honorary doctor of letters degree. A leading nonprofit organization in the field of international educational exchange and development training, IIE administers the Fulbright program, sponsored by the United States Department of State and other corporate, government and privately sponsored programs. In January 2008, Goodman served as a panelist in the Middlebury-Monterey Institute of International Studies ConnectEd conference in Monterey.
Discussing the importance of language learning, Goodman told the students that graduates of American colleges and universities should be required to have a passport, which they must prove they have used at least once, and to know another language. 
Goodman went on to say, "Four centuries ago, Francis Bacon noted in Latin that three inventions - printing, gunpowder and the compass - 'changed the whole face and state of things throughout the world.' So I am humbled and also inspired by the degree you have given me. Through it, your trustees have recognized the importance of all who work to promote international education and mutual understanding.  And maybe if there were more of that, we would have a lot less need for gunpowder."
Goodman was previously executive dean of the Georgetown University School of Foreign Service, and served as presidential briefing coordinator for the director of central intelligence, and as special assistant to the director of the National Foreign Assessment Center in the Carter administration. He was the first American professor to lecture at the Foreign Affairs College of Beijing, and helped create the first United States academic exchange program with the Moscow Diplomatic Academy for the Association of Professional Schools of International Affairs. He also developed the diplomatic training program of the Foreign Ministry of Vietnam.
He has served as a consultant to the Ford Foundation, the Wilson National Fellowship Foundation, U.S. Information Agency, and IBM. He is a member of the Council on Foreign Relations and the author of numerous books on international affairs. Goodman earned a doctorate from Harvard, a master of public administration degree from the John F. Kennedy School of Government, and a bachelor of science from Northwestern University. He holds honorary degrees from a number of institutions and was awarded the title of Chevalier of the French Legion of Honour in 2007.
The commencement ceremony was also notable for several beginnings and a farewell. Susan Carvalho, who retired as the director of the Spanish School, was recognized for her years of service. The new Brandeis University-Middlebury College School of Hebrew held its inaugural session this summer and Vardit Ringvald, the school's director, served as one of the faculty marshals in the ceremony. One student received a master's in Chinese and was the first to do so as this degree program was just established in 2007.
The ceremony was preceded by a carillon performance by George Matthew Jr. Middlebury College guest organist Kevin Parizo accompanied the commencement procession and recession on the Mead Chapel organ. During the ceremony Twilight Artist-in-Residence François Clemmons led the graduates in the college song "Gamaliel Painter's Cane," accompanied by Parizo, to which students all tapped their newly received replicas of the cane. Students from the German School's German for Singers and Vocal Coaches program, the Spanish School, and the Italian School presented classical vocal pieces interspersed throughout the ceremony.
Middlebury College Language Schools
In the Language Schools' 94-year history, more than 40,000 students of all ages, nationalities, and from all walks of life have attended one or more of the 10 schools. More than 12,000 students have earned a master's degree or doctorate of modern languages from the Language Schools. Under the guidance of approximately 240 faculty members from institutions throughout the world, students live on campus, totally immersed in their target language.
The college offers summer sessions for 10 foreign languages: Arabic, Chinese, French, German, Hebrew, Italian, Japanese, Portuguese, Russian and Spanish, as well as graduate-level French, German, Italian, Russian and Spanish. In 2007, the Language Schools added a master's degree in Chinese, which students can earn in four summers at Middlebury's Vermont campus, or in two summers in Vermont and an academic year at the Middlebury-affiliated Monterey Institute of International Studies. The Arabic and Portuguese sessions offer non-degree, graduate-level courses.
Middlebury also offers language programs at the C.V. Starr-Middlebury Schools Abroad located at 30 sites in 12 countries. In 2008, the college opened the Middlebury-Monterey Language Academy (MMLA), a summer language immersion program for pre-college students. MMLA is a collaboration between the Language Schools of Middlebury College and the Monterey Institute of International Studies, a Middlebury affiliate. The four-week residential camps offer Arabic, Chinese, French and Spanish, and the inaugural sessions took place on the campuses of St. Michael's College in Colchester; Menlo College in Atherton, Calif.; and Hampshire College in Amherst, Mass., administered by Johns Hopkins Center for Talented Youth.
For more information, contact Middlebury College Language Schools Director of Institutional Collaboration and Marketing Jamie Northrup at 802-443-5856 or jnorthru@middlebury.edu.