Italian School creates 'laboratory classroom' for faculty children
Middlebury, Vt. - The Italian School brought together faculty children from the French, Russian, and Arabic Schools this summer for an intensive learning experience in Italian language and culture.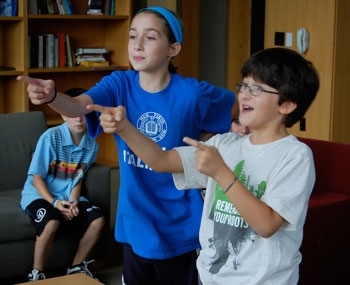 Olivia Collili and Max Nicaso try to give the fastest answers in an Italian word game.
Twelve children from the Language Schools community, including several from the Italian School itself, met for an hour three times a week to learn basic Italian vocabulary and sentence structure, sing songs, and engage in activities.
The youngsters ranged in age and in Italian-language proficiency, and not all spoke a common language, so the three instructors employed a modified version of the Language Pledge throughout the seven-week program.
Graduate students interested in pedagogy and language acquisition also joined the regular instructors, thus turning Room 100 in Atwater B into a "laboratory classroom" for the summer. So while the children were busy learning destra from sinistra (right from left) or fácile from difficile (easy from difficult), future teachers observed the process and took notes for the classrooms they'll direct someday.
One recent Monday afternoon Costanza Menchi, an Italian School intern, was conducting class. She led the group through a lessico (lesson) about la città (the city) that included a dialogue about la piazza (the square), la strada (the street), and il parcheggio (the parking lot); an art project using colored markers and paper; and the singing of Ci vuole un fiore, a rousing children's song that means "You Need a Flower."
The idea of conducting classes for the children of Language Schools' faculty and staff was the brainchild of Antonio Vitti, the director of the Italian School.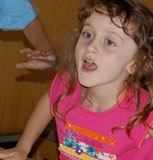 Everyone, especially Emily Nicaso, enjoys singing in Italian.
"Children transmit energy and a strong desire to learn through playing," said Prof. Vitti, who has been affiliated with the Italian School since 1987. "The experience of working with children of various age groups allowed us to test different pedagogical methods and the instructors perceived the pleasure the children derived from learning through various cultural activities.
"The initiative of including community children and faculty children from the other
language schools also gave our student-teachers the opportunity to replicate the multicultural nature of today's contemporary Italian classrooms."
Aside from the pedagogical benefit, Vitti is quick to add the class's value in building community between families in the Language Schools. "I also saw it as a way to involve children in the rich life of our summer programs and to cut across language and cultural boundaries."
Two boys, one from the Italian School and the other from the Arabic School, became fast friends through the class - a friendship that might not have formed otherwise. After class, three girls - two with ties to the Italian School and one from the French - were observed chatting away in Italian. On another day, a tri-lingual youngster translated the teacher's instructions from Italian to French for two non-native speakers of Italian.
Because of experiences like these and the added value of having a "laboratory classroom" inside the Language Schools, Vitti plans to run the program five days a week next summer and to reach out to more youngsters interested in learning Italian.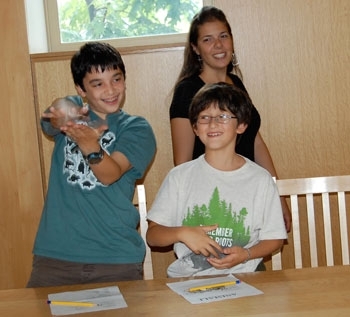 Language learning sure brings smiles. From left: Gabriel Donato, Max Nicaso, and instructor Marianne Lettieri.
"And next year we will include more cultural activities, films, and games, and open it up to more children interested in learning Italian," he added.
This summer's instructors included: Ms. Menchi, an intern and candidate for the Master of Arts (M.A.) in Italian who teaches in Smith College's program in Florence; Holly King, also an intern who holds M.A. degrees from Middlebury in Italian and French, and teaches in suburban Philadelphia; and Marianne Lettieri, an elementary school teacher who grew up in a bi-lingual household speaking Italian and English, and is a University of Toronto graduate.