New issue of New England Review features fiction, poetry and prose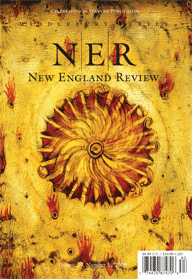 MIDDLEBURY, Vt. ? New England Review (NER), a national literary quarterly published by Middlebury College and now celebrating its thirtieth year, has released its latest issue (Vol. 29, No. 3). The issue is available in the Middlebury College Book Store and through the journal's Web site at www.nereview.com. As part of the college's commitment to conserving natural resources, the magazine is now published on 100 percent post consumer waste (PCW) recycled paper.
The issue features new poems by Carl Phillips, Victoria Chang, Geri Doran, Scott Hightower, Steve Orlen, Marianne Boruch, and others, as well as fiction by Stephen O'Connor, Tom Yori, Paul Eggers, Ted Gilley, and more. The nonfiction includes important personal letters by Ted Hughes, an account of the making of Emily Dickinson's posthumous first book, a close look at the paintings in Proust's Remembrance of Things Past, and an investigation of a sequence of novels by David Markson. Also in this issue is an excerpt from the first English translation from the Icelandic of Halldòr Laxness's The Great Weaver from Kashmir and an homage to John Berryman.
NER was founded in 1978. The selection of writings in each issue presents a broad spectrum of viewpoints and genres, including traditional and experimental fiction, translations in poetry and prose, criticism, letters from abroad, reviews in arts and literature, and rediscoveries.
NER is edited by Fulton Professor of Humanities Stephen Donadio. The poetry editor is C. Dale Young, and the managing editor is Carolyn Kuebler, a 1990 graduate of Middlebury College. Works originally published in NER are regularly selected for the "Best American" series, as well as for "The O. Henry Prize Stories," "Best American Nonrequired Writing," "New Stories from the South: The Year's Best," and for the Pushcart Prize.
For more information, contact Carolyn Kuebler in the NER offices at 802-443-5075 or ckuebler@middlebury.edu.