Football team christens new artificial turf field with 42-28 victory
MIDDLEBURY, Vt.-History was made at Youngman Field on September 20, as the Middlebury College football team christened its new synthetic grass playing surface with a 42-28 victory over Bowdoin College.
A crowd of about 2,300 fans cheered as sophomore Anthony Kuchan kicked off for the Panthers to open the football season. His kick, which sailed more than 70 yards through the air and bounced through the end zone for a touchback, ushered in a new era for Middlebury football and lacrosse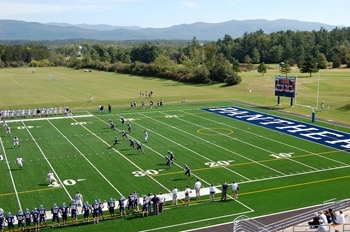 Sophomore Anthony Kuchan kicks off to start the game.
During the summer the natural grass surface on Youngman Field at Middlebury's Alumni Stadium was converted to FieldTurf, the same surface used by 21 out of 32 teams in the National Football League in their stadiums or practice facilities.
FieldTurf (Web site: http://www.fieldturf.com) is the surface used at Gillette Stadium in Foxboro, Mass., where the New England Patriots and New England Revolution play. It is the surface at more than 40 major college football programs across the country including Ohio State, Michigan, Nebraska, and Boston College, and in the Ivy League at Harvard, Dartmouth, and Cornell.
In addition to football, the Major League Baseball teams in Tampa Bay, Toronto, and Minnesota use FieldTurf in their ballparks, as do many soccer clubs and rugby teams around the world. FieldTurf is not new to Middlebury; the same playing surface was installed in 2007 at the College's soccer pitch on South Street.
Middlebury President Ronald D. Liebowitz welcomed the football crowd at halftime and acknowledged the important role played by Middlebury alumni, parents, and friends in fund raising for the project. He thanked the current athletic director, Erin Quinn; former athletic directors Tom Lawson and Russ Reilly; and everyone connected with athletics at the College.
President Liebowitz addresses the crowd during halftime of the home opener.
"At Middlebury," the president said, "we believe that education is not restricted to the classroom and the laboratory. Every aspect of life at the College is designed to encourage students to push themselves, try new ideas, and take leadership roles. This is clearly evident in our athletics program where students learn the critical skills of teamwork, innovation, and leadership to succeed in the 21st century."
President Liebowitz recognized the high quality of Middlebury's coaching staff, student athletes, and facilities, and said they are the three essential components of an outstanding intercollegiate athletics program. All three areas have been strengthened over the years by the generosity of donors, the president noted.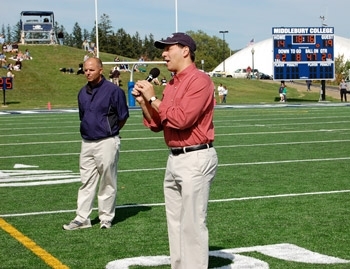 Athletic Director Erin Quinn, left, and President Liebowitz.
The football team, now 1-0 on the season, will play again on the new synthetic surface Oct. 4 vs. Amherst College, Oct. 18 vs. Bates College, and Nov. 8 vs. Tufts University. Admission to Middlebury football games is free of charge and the public is invited.