Four recent Middlebury College graduates receive Fulbright Scholarships
MIDDLEBURY, Vt.-Four recent Middlebury College graduates have received Fulbright U.S. Student Scholarships to work, study, and travel abroad in 2008-2009.
Two of the alumni are now in China, one is in Korea, and the fourth is in Spain-all as part of the renowned international educational exchange program established in 1946 by the late Senator J. William Fulbright.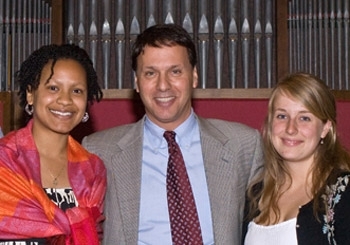 President Ronald D. Liebowitz congratulates Fulbright recipients Merisha Enoe, left, and Caeli Nistler-Schnabel, at right.
- Photo by Tad Merrick
Merisha Enoe '08, of Parlin, N.J., is in China researching how local communities are using natural resources and local support to cope with environmental concerns like air pollution and water depletion. Ms. Enoe, who majored in Chinese and biochemistry at Middlebury and graduated cum laude, first became aware of China's grassroots movement toward environmental sustainability in the summer of 2007 when she worked in China with the international organization Future Generations helping to organize "The Long Green March," a youth conservation project.
"I am convinced," she wrote in her Fulbright application, "that if the world directs its attention to China's promising conservation efforts, then China will have the impetus to take progressive steps towards a sustainable future and become a key player in global environmental affairs."
Associate Professor of Chinese Thomas Moran said, "Merisha has succeeded as a student of Chinese because she is [an] enthusiastic and relentless learner … she has entered Chinese culture and is becoming truly proficient in the language." Scholar in Residence Bill McKibben said Enoe's work on The Long Green March "had a jaw-dropping effect on Chinese [people] everywhere. I can't think of a more impressive ambassador."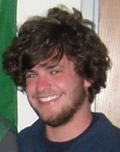 Michael Fletcher
Michael Fletcher '08, of Katonah, N.Y., says he was drawn to the Fulbright program because his ideals coincide with the program's "commitment to diversity of thought, practical application of academic pursuits, dedication to cultural integration, and acknowledgement of individual responsibility in the worldwide schema."
Fletcher is teaching English as a foreign language in Spain where he hopes to "build transnational bonds by fostering within children intercultural curiosity and global awareness." The magna cum laude graduate draws a connection between the goals of the Fulbright program and his volunteerism at Middlebury where he earned a Public Service Leadership Award from the College for his dedication to mentoring a local middle school student, coordinating the Community Friends program, and teaching English to migrant workers in Addison County.
One of his professors at Middlebury, James Berg, said, "Mike's gifts as a potential teacher were evident in what I would call his 'intelligent humility.' He was always ready to say what he did not know-a readiness required in teaching more often than people think-and always eager to establish communication about his work with others around him."

Emily Goldsmith
Emily Kim Goldsmith '08, of Croton-on-Hudson, N.Y., is teaching English as a Foreign Language in South Korea. At Middlebury she majored in French, graduated cum laude, and proved to be an adept student of languages and keen observer of cross-cultural communication.
While studying abroad at Middlebury's School in France, Goldsmith tutored Parisian high school students in English and found the experience "helpful in deepening my learning and understanding of French. Having to explain cultural and linguistic differences offered insight into my own knowledge of English and helped me appreciate the complexity of communicating ideas across language barriers."
Goldsmith studied French and Italian at Middlebury. Her advisor, Professor of French Bethany Ladimer, said, "Emily is especially well suited to teaching language. She took full advantage of the opportunity to teach English to children in an after-school program [in Middlebury]. Her Korean origins have made her sensitive since childhood to the importance of learning another language early in life. … There is no student, past or present, to whom I would give a higher recommendation for a student Fulbright teaching fellowship."
Caeli Nistler-Schnabel '08, of Waverly, Iowa, earned a Fulbright scholarship to conduct sociological research in China on a project she has titled, "Secondary School and Beyond: the Experience of Intellectually Disabled People in China."
Nistler-Schnabel, who graduated magna cum laude, observed during her study abroad experience with Middlebury's School in China that cognitively disabled people were largely invisible members of Chinese society. "Through my research," she said, "I aim to better understand the cultural factors that influence the views of people in China regarding the place of intellectually disabled people in society." Her project focuses on China's educational methods, and family and community attitudes toward how intellectually challenged students transition from secondary school to adulthood.
Carrie Reed, associate professor of Chinese, said, "Caeli has the kind of calm, gentle, and humble personal communication style that will likely be necessary to carry out inquiries of a potentially sensitive nature" with family members of disabled persons. Proficient in the Chinese language through her academic year classes, nine weeks of immersion in the summer Chinese School, and semester abroad in Beijing and Hangzhou, Nistler-Schnabel hopes to document and witness "the growing awareness and advocacy of disabled rights in China."
The U.S. Department of State and the Bureau of Educational and Cultural Affairs sponsor the Fulbright Program. It operates in over 150 countries, and in its 62-year history, more than 108,000 Americans have studied, taught, or researched abroad, and about 178,000 people from other countries have engaged in similar activities here.