Gifted young organist Ken Cowan performs in Mead Chapel October 5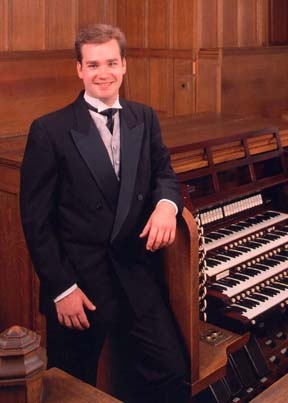 MIDDLEBURY, Vt. - On Sunday, Oct. 5, at 3 p.m., accomplished organist Ken Cowan will perform on the recently refurbished and enhanced Gress-Miles organ in Mead Chapel in Mead Chapel, located on Hepburn Road off College Street (Route 125). His program will include works by Bach, Vierne, Liszt and Reger.
Cowan has performed solo recitals across the United States and Canada, and has received numerous awards, including first prizes at the Royal Canadian College of Organists National Competition and the Yale Institute of Sacred Music National Competition.
A native of Ontario, Canada, Cowan received a master's degree and artist diploma from the Yale Institute of Sacred Music, where he studied with Thomas Murray. Prior to attending Yale, he graduated with a Bachelor of Music degree from the Curtis Institute of Music in Philadelphia where he studied with John Weaver. As a boy, he received his first organ lessons from his father, and later studied with James Bigham in Buffalo, N.Y.
He currently serves as an assistant professor of organ at Westminster Choir College in Princeton, N.J., where he maintains a studio for instructing students. Previously he held positions at Saint Bartholomew's Church, St. James Episcopal Church and the Church of Saint Mary the Virgin in New York City; and Saint Clement's Church in Philadelphia. In 2004 Cowan was a featured artist at the national convention of the American Guild of Organists (AGO) held in Los Angeles. He also performed at many regional conventions of the AGO and has been a featured artist of the Organ Historical Society and the Royal Canadian College of Organists.
Cowan has made numerous recordings, including a recent release titled "The Art of the Symphonic Organist," which was recorded on the 1921 E. M. Skinner organ at the Parish of St. Luke in Evanston, Ill. Many of his recordings and live performances are regularly featured on the nationally distributed radio show "Pipedreams" from American Public Media.
A reviewer from the Diapason Journal recently wrote that Cowan is ".one of the most outstanding young organists on the scene today. His unassuming manner and his sure and relaxed technique hide a fiery, yet totally musical, approach to organ playing."
The performance is sponsored by the Middlebury College Performing Arts Series. Tickets are $20 for general admission and $15 for seniors. For tickets and information, contact the Middlebury College Box Office at 802-443-6433 or www.middlebury.edu/arts.