Panel enlightens Middlebury audience on the value of Peace Corps service
MIDDLEBURY, Vt.-Six Peace Corps alumni told a gathering on September 12 in Dana Auditorium how their service made a difference in others' lives-and changed their own lives as well.
The panel discussion hosted by the Rohatyn Center for International Affairs was entitled "Making a Difference in the World," or as former volunteer John Maluccio, an assistant professor of economics, said, "If I had to give it a title, I'd call it 'Making a Difference in Your Life' too."
"During your time in the Peace Corps, you will undeniably change the lives of other people," the volunteer in Kenya (1987-1989) told the audience of about 150 people. Yet he cautioned them to be realistic about their expectations in terms of changing the world. "You should recognize that the Peace Corps will be good for you too. It's an adventure-you will learn another language, learn another culture too. And the life you change most may be your own."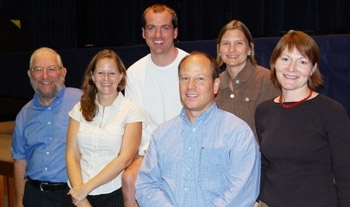 Peace Corps panelists, from left, David Rosenberg, Jessi Flynn, Jason Chance, John Maluccio, Nicole Chance and Jennifer Goetz.
Nicole Chance, who served from 2000 to 2002 in West Africa, is coordinator of international programs at Middlebury. As a Peace Corps volunteer she taught at a university in the Republic of Guinea, where she lived with a family in a concrete house and learned Maninka, the local language, by speaking with women in the marketplace and talking to children.
"I found myself working through my daily struggles in the Peace Corps, but it was not until after I processed a lot of [my experiences] did I become the truly open-minded person that I thought I was," she said. "The Peace Corps showed me that I possessed skills that I didn't even know that I had."
David Rosenberg, professor of political science, was a volunteer in Nepal in 1963 to 1965. He told the audience in Dana that his service "was the most defining experience in my life. It helped me figure out what I was good at. It also helped me figure out what was worth doing in the world."
Since the Peace Corps started in March 1961, the agency has sent about190,000 American citizens to 139 different countries, and former volunteers enjoy a particularly strong bond.
Professor Rosenberg recently attended a reunion of Peace Corps volunteers sent to Nepal in 1963. "Of the 40 members of my group," he said, "Eight have died, four from AIDS. Two are still working for the Peace Corps, five are in the U.S. Agency for International Development, three are in the foreign service, one works in the United Nations, four are college professors, three work in environmental affairs … and one is a travel agent in Bangkok." All together, 27 of the 32 surviving members of Rosenberg's group attended the reunion on the West Coast.
Jessi Flynn was a Peace Corps volunteer in Panama from 2001 to 2003, who stayed on an extra 18 months to work as a coordinator in the region. One of the six panelists, Flynn is still working for the Peace Corps seven years later as a recruiter out of the Boston Regional Office.
She said she is often asked, "How can I give up two years of my life to serve in the Peace Corps?" Her answer: "It was not two years out of my life. It was two years of a different life."
Flynn said most volunteers go through a "life cycle" in which the first three months consists of "intensive technical, cultural, and language training in which you are surrounded by like-minded people who become your new friends and family."
"Next you're in the field trying to figure out who are the leaders, who are the workers, and what needs to be done." Most of her service in Panama centered on agriculture, forestry, and women's issues. "Pretty soon it's like, 'Oh, I'm leaving in six months and I have to find someone to continue the work I am doing.' "
Jason Chance, now a computer specialist and snowboard instructor, met his future wife, Nicole, on his Peace Corps assignment in Guinea. During his first year (1999-2000) he taught mathematics at a high school in a small village, and during his second year (2000-2001) he helped develop information technology projects in the capital city and at the university. The contrast between the two assignments broadened his Peace Corps experience.
A visiting assistant professor of psychology, Jennifer Goetz, served in Niger from 1996 to 1999, but it was not the first assignment offered to her by the Peace Corps. "Originally they wanted me to go to Jamaica and teach mathematics, but I wanted that stereotypical Peace Corps assignment where I lived in a mud hut," she said. So Goetz declined the offer, went back and strengthened her résumé, and was later given the opportunity to work as an agricultural extension agent in Niger.
Other than the cultural differences she encountered, the biggest change for Goetz was the degree of freedom she had in the Peace Corps. Accustomed to structure through her many years as a student, she found her days in the Peace Corps were not scheduled at all. "It was wide open. No one was telling me what to do. It was hard to negotiate that with my village and with the agencies that I dealt with."
But soon she realized "you can negotiate what you do and how you do it. You can define your own experience in the Peace Corps," she declared. "It pushed me to do things I wouldn't have done before."
Later, when a Middlebury senior in the audience commented that he was interested in the Peace Corps but didn't know what he wanted to do with his life, the first-year psychology professor said: "I got to see what people in another part of the world valued in their lives and it was in stark contrast to what people value in the United States. In some ways that realization freed me up from trying to decide what I wanted to do. I just knew what I wanted to do."
Then she paused and said, "Being in the Peace Corps makes the decision about what to do in life less weighty."
The Rohatyn Center for International Affairs offers frequent lectures and panel discussions during the academic year on topics that will advance global understanding. All of the programs are free and open to the public. For information about future programs, consult the calendar on the Rohatyn Center web site or subscribe the RCFIA's e-newsletter at rcfia@middlebury.edu.