Takács Quartet returns to Middlebury for performance on September 28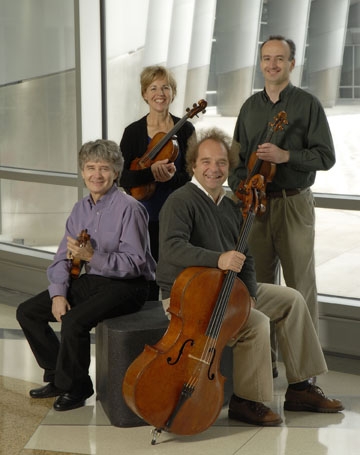 MIDDLEBURY, Vt. - On Sunday, Sept. 28, at 3 p.m., the internationally celebrated Takács Quartet will perform in Mead Chapel, located on Hepburn Road off College Street (Route 125). This Performing Arts Series concert is free, non-ticketed and open to the public and made possible with generous support from the Institute for Clinical Science and Art, established by the late Dr. F. William Sunderman of Philadelphia.
For more than a decade, the Takács Quartet has played annual concerts at Middlebury, and during this time they have risen to the peak of chamber ensembles. They are acclaimed worldwide for their impeccable execution, elegant sound, and deep reading of the music's intention. Their performance this year will include works by Mozart, Bartók (the sixth quartet), and Robert Schumann.
The group, which includes Edward Dusinberre and Károly Schranz on violin, Geraldine Walther on viola and András Fejér on cello, has appeared in concert halls throughout the world and performed a repertoire ranging from Haydn, Mozart, Beethoven and Schubert to Bartók, Britten, Dutilleux, Janácek and Sheng - as well as quartets by contemporary composers, including Middlebury College Professor of Music Su Lian Tan.
Formed in 1975 at the Franz Liszt Academy in Budapest by students Gabor Takács-Nagy, Gabor Ormai, Schranz and Fejér, the Takács Quartet first received international attention in 1977 when they placed first and won the Critics' Prize at the International String Quartet Competition in Evian, France. The group went on to win the gold medal at the 1978 Portsmouth and Bordeaux Competitions, and first prizes at the Budapest International String Quartet Competition in 1978 and the Bratislava Competition in 1981, before making their North American debut in 1982. Of the original ensemble, only Schranz and Fejér remain. Dusinberre joined in 1993 and Walther in 2005.
Based in Boulder, Colo., the quartet has been in residence at the University of Colorado since 1983, where they have helped develop a string program with a special emphasis on chamber music. The group's commitment to teaching is enhanced by summer residencies at the Aspen Festival and at the Music Academy of the West in Santa Barbara. The Takács is a Visiting Quartet at the Guildhall School of Music and Drama in London.
The quartet is known for innovative programming. In 2007 it performed, with Academy Award-winning actor Philip Seymour Hoffman, "Everyman" in Carnegie Hall, inspired by the Philip Roth novel. In May 2008 the quartet performed a new piece by James MacMillan commissioned by the Southbank Centre. The Takács has performed a music and poetry program throughout the United States with the poet Robert Pinsky.
In 2005 the Takács Quartet signed a contract with Hyperion Records, for whom their first recording was released in 2006. A disc featuring Brahms' Piano Quartets Op. 51 and Op. 67 was released to great acclaim in 2008, and a disc featuring the Schumann Piano Quintet with Marc-Andre Hamelin will be released in 2009.
Commenting on their latest Schubert recording for Hyperion, Gramophone magazine noted, "The Takács have the ability to make you believe that there's no other possible way the music should go, and the strength to overturn preconceptions that comes only with the greatest performers."
More information is available at www.middlebury.edu/arts.