Visiting scholar Claude Steele to lecture on the psychology of performance in a diverse society Sept. 22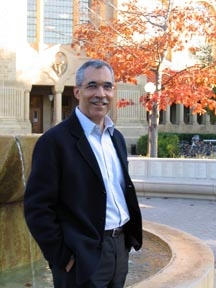 MIDDLEBURY, Vt. ? Claude Steele, a professor of psychology at Stanford University, will be a Middlebury College Visiting Twilight Scholar from Sept. 21-23. As part of his visit, he will give a lecture on Sept. 22 at 7 p.m. titled "The Psychology of Social Identity: Its Role in Group Performance Differences and the Challenges of an Integrated Society." The lecture is free and open to the public and will take place in Mead Chapel, located on Hepburn Road off College Street (Route 125).
Steele's talk explores unseen pressures on the academic performance of certain groups - groups whose abilities are negatively stereotyped, such as women in math and minorities in most academic fields. According to Steele, group inequality in educational performance is, for the most part, a product of group inequality in educational opportunity. Steele's research explored a concept he calls "stereotype threat," which can occur when one is performing in areas where the abilities of one's group are negatively stereotyped, creating a persistent pressure that any difficulty in the area could cause one to be judged and treated in terms of that group stereotype. Such pressure, according to Steele, can be powerful enough to shape the intellectual performance and academic identities of entire groups of people.
Steele will also discuss new research showing that the very sense of having a group identity - of being black, of being old, of being white - is significantly rooted in the perception that one is under threat because of that identity. This perception often arises from unintentional cues such as professional networks being organized around group identity. 
His talk will end with a discussion of remedies, derived from his analysis, that have been successfully applied to the group underperformance issue that launched this research, as well as the more general issue of how to manage a successfully diverse society.
The Twilight Scholars Program, sponsored by the Office for Institutional Planning and Diversity, began in 1994 in honor of Alexander Twilight, who was the first African-American graduate of Middlebury College. The program is intended to enhance diversity programming by inviting professors from other academic institutions, guest speakers, and artists to Middlebury for a 2-3 day residency. During the residency Twilight Scholars are expected to present public lectures, visit classes, and interact with faculty, staff, and students in and outside of the classroom. Steele's residency is also sponsored by the Offices of the Dean of the College, the Dean of Faculty, and the Provost, Human Resources, and the Department of Psychology.
For more information, contact Coordinator of Diversity Initiatives Jennifer Herrera at 802-443-5743 or jherrera@middlebury.edu.