Student's climate action lands him in cold water [video]
MIDDLEBURY, Vt. - For climate change activists, the Arctic holds special meaning and special urgency — perhaps the clearest illustration of what is at stake in the fight against global warming.
Middlebury College sophomore Ben Wessel, an environmental studies major from Washington, D.C., who has been highly active in the youth climate movement, experienced the wonders of the Arctic this summer as a participant in the World Wildlife Fund's (WWF) inaugural "Voyage for the Future," a two-week expedition to the Norwegian archipelago of Svalbard, 400 miles north of the mainland and home to the world's northernmost settlements.
Wessel earned a highly competitive slot as one of 18 young adults - representing nine countries - selected by WWF for their interest and accomplishments in climate change activism. The group sailed aboard a former Russian research vessel along the entire west coast of Svalbard. They were accompanied by a group of climate science experts, who provided daily seminars. The goal, according to WWF, was to develop a group of young ambassadors who could share their knowledge to help generate broad support for radical reductions in greenhouse emissions. Wessel says he realized he was in a radically different place when the group flew from Oslo to Longyearbyen, the islands' largest settlement with a year-round population of about 2,000 residents. "The sun never set," said Wessel. "It was like noon all day and 35 degrees - definitely different from June in D.C."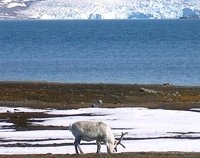 videos feature people holding up a single green-painted finger, then opening their hands to show a written message on their palm naming something they want to protect from climate change.
"It's turned into a very moving and powerful way to communicate to many people on different levels," says Wessel, noting that while they were in Norway they filmed the Norwegian crown prince and princess for Green Finger videos.
With the elections approaching, Wessel is now focusing his attention on a campaign called Power Vote, sponsored by the Energy Action Coalition, a national youth movement involved in energy issues. Then in early December, he will travel to Poland for the United Nations Climate Change Conference as part of a delegation of 23 American students from an organization called SustainUS. They plan to write policy position papers and apply pressure to the United States delegation to follow up on promises for action on climate change.
Wessel attributes much of his ambition and understanding of climate change to his Middlebury experience. "The Sunday Night Group and many professors, particularly in the Environmental Studies department, stress the fact that the youth have the power to change the discussion on climate, and that dedication and belief in the power of change are tools we can wield to help solve this crisis."
"I've been asked a lot, 'Was it really necessary to go to the Arctic to get your message out - couldn't you have just met in New York to talk about it?'" says Wessel. "I really had to think about that for a while, and I feel like the experience of being in the Arctic where all this change is taking place was so crucial to the urgency of the message, that now I have this connection to a place that before was just a picture or a spot on a map. Now it feels like something I want to save personally."