Middlebury students capture 31st annual 'Green Chicken' math contest
MIDDLEBURY, Vt.-A team of students from Middlebury College captured the 31st annual "Green Chicken" competition with Williams College on Saturday, November 1, in Williamstown, Mass.
The mathematics contest-named after the prize that goes to the winning team, an avocado green casserole dish in the shape of a chicken-began in 1978. This year, each team had about 16 students taking the two-hour test; the final score-reflecting the total of the top four scorers from each team-was 293-288. The narrow win for the Middlebury team snapped a five-year winning streak for Williams.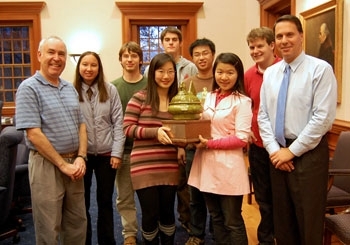 From left, Professor Peter Schumer, Nicole Hansen '12, Victor Larsen '09, Jia Liu '11, Gavin Bauer '12, Angelo Fu '10, Ying Zhuo '12, David Fouhey '11, and President Ronald D. Liebowitz.
Peter Schumer, a Middlebury math professor, said that after "a very tough and close contest" the top four Middlebury scorers were Victor Larsen, Ying (Daisy) Zhuo, Shengen Zhai and Chaoyi Chai. The other members of the team-"many with excellent scores," Schumer said-were Kim Ammons, Gavin Bauer, Danny Crow, Chester Curme, Angelo Fu, David Fouhey, Nicole Hansen, Stephen Jewell, Jeff Leitch, Jia (Coco) Liu, Casey McGowan, and Armaan Sarkar. Schumer sent "a big thanks to professors John Schmitt and Frank Swenton for helping to rally the troops, travel with the team, and help with all the furious grading."
In a note to the team, the math department and other interested parties after the Middlebury win, Schumer said the 2008 version of the Green Chicken was "one of the closest contests ever … and hopefully is the start of a string of Middlebury victories. Thanks again for all involved. Well done!"
For more on the history of the Green Chicken-the contest and the eponymous casserole dish-see this recent story in the Boston Globe.