Middlebury students honor the legacy of Dr. King with Day of Service
MIDDLEBURY, Vt.-Middlebury College students observed Martin Luther King Day by getting up early on Saturday morning, Jan. 17, and digging in for a day of service to the community.
First the women's tennis team rallied at 7:30 a.m. to work at the local food bank to assist the hungry.
Next, at 9 a.m. a group of students started preparing an enormous lasagna and salad luncheon for the region's migrant farm workers and their families.
And by 10 a.m., more than 60 students and a handful of staff members were positioned around the region cooking, stacking, reading, baking, moving, delivering, and performing music with and for residents in connection with the College's second annual MLK Day of Service.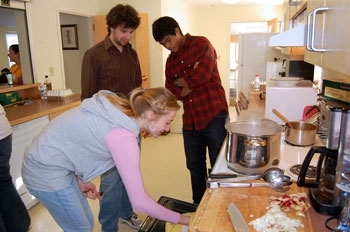 Making lasagna to feed dozens of migrant farm workers and their families is a multi-step process, as Middlebury students can attest. Helping out in the Carr Hall kitchen are Kaylen Baker '12 (reaching into the oven), Scott Gratton '09, left, and Alan Lim '09.
Organized by the Alliance for Civic Engagement (ACE) at Middlebury College, projects took place at 10 sites including the Addison County Teen Center, Charter House Transitional Housing Shelter, Ilsley Library, Helen Porter Healthcare and Rehabilitation Center, and others.
Participants arriving at the Day of Service headquarters in Carr Hall on Saturday morning were greeted by project coordinator Ashley Calkins, a 2006 graduate of Middlebury, and a table full of bagels, scones, fresh fruit, juice, and coffee. Once the volunteers were fueled and ready, they were dispatched to their work sites, some on foot and others in college vans, but all with one purpose in mind: to honor the legacy of Dr. Martin Luther King Jr. through community service.
Ashley Calkins '06, who coordinated the Day of Service, speaks with reporter Gordon Dritschilo from the Rutland Herald.
Said Calkins, an AmeriCorps member assigned to the ACE office: "Dr. King himself said, 'Everybody can be great. … because anybody can serve.' So along with Dr. King, the Alliance for Civic Engagement recognizes the profound impact that local service can have both on students and the community.
"In today's economic times it is especially important for students to get engaged at the local level to support agencies that are working to meet critical community needs. I hope that students who volunteered on Saturday choose to continue to do service and build partnerships with community organizations because the Day of Service is meant to be a jumping off point for continued engagement in the community."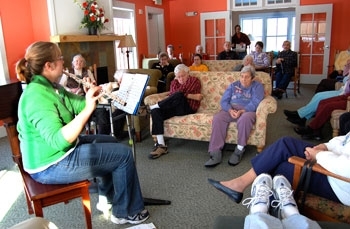 Area residents in Project Independence at the Elderly Services center in Middlebury enjoyed minuets and sonatas by Bach and Beethoven performed by flutist Eve McConnell, an AmeriCorps member from the Vermont Campus Compact.
The Day of Service was one event in a week-long celebration in honor of the late civil rights leader. The observance will culminate on Tuesday, Jan. 20, with programs relating to the inauguration of Barack Obama as the nation's 44th president.