2009 College Convocation Series presents the 'Planetwalker' on March 3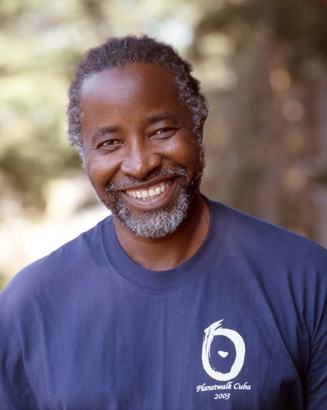 MIDDLEBURY, Vt. ? On Tuesday, March 3, international activist and speaker John Francis will deliver a lecture, titled "Redefining Environment" at 7 p.m. in Mead Chapel, located on Hepburn Road off College Street (Route 125). The lecture is part of the annual Middlebury College Convocation Series.
Earlier that day, at 12:30 p.m., Francis will participate in a free interactive workshop titled "What Will Your Planet Walk Be?" Lunch will be served and reservations are required by Feb. 27. For reservations and location information, contact Scott Center for Spiritual and Religious Life Program Coordinator Ellen McKay at 802-443-5626 or emckay@middlebury.edu. 
Francis, known as the "Planetwalker," spent 17 years in silence and 22 years without using a motorized vehicle after witnessing the effects of an oil spill in San Francisco Bay. During that time Francis walked across the United States and earned a bachelor's degree at Southern Oregon State College, a master's degree in environmental studies at the University of Montana and a doctorate in land resources at the University of Wisconsin. He later sailed and walked through the Caribbean and also walked the length of South America. He is the author of "Planetwalker: 22 Years of Walking. 17 Years of Silence."
For his talk at Middlebury, Francis will discuss the current environmental crisis as a reflection of worldwide social and economic inequity, and how any attempt to resolve the crisis must not only address scientific issues, such as climate change and deforestation, but also humanitarian issues. He will reflect on his own journey into environmental awareness, from his birth in Philadelphia to West Indian immigrants to his later experience writing international oil spill regulations for the U.S. Coast Guard. Francis will discuss his journey, his unique perspective on environment, and how we each can make a difference in our world.
The College Convocation Series represents an effort to bring together members of the college and local community to reflect on topics of broad intellectual and cultural importance.
This event is co-sponsored by several Middlebury College departments and organizations, including the Dean of the College, the Environmental Studies Program, the Office of Environmental Affairs, the Charles P. Scott Center for Spiritual and Religious Life, the Office of Institutional Planning and Diversity, the Department of Religion, the Academic Enrichment Fund, Ross Commons and Metanexus.
For more information, contact Scott Center for Spiritual and Religious Life Program Coordinator Ellen McKay at 802-443- 5626 or emckay@middlebury.edu.