Penguins and climate change focus for biologist's lecture on Feb. 24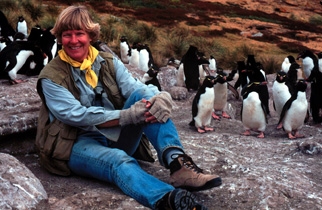 MIDDLEBURY, Vt. - On Tuesday, Feb. 24, at 4:30 p.m., University of Washington Wadsworth Professor of Conservation Science Dee Boersma will present the 2009 Scott Margolin '99 Lecture in Environmental Affairs. The lecture, titled "Penguins as Marine Sentinels," is free and open to the public and will take place in Room 216 of McCardell Bicentennial Hall, located on Bicentennial Way off College Street (Route 125).
As a distinguished conservation biologist, Boersma has had numerous national and international positions in conservation. Since 1982, she has directed the Magellanic Penguin Project at Punta Tombo, Argentina, as a scientific fellow for the Wildlife Conservation Society. According to Boersma, penguins are important marine sentinels for marine conservation, economic development of nature based tourism and ecological response to climate change.
Boersma had also served as an advisor to the United States Delegation to the United Nations World Population Conference in Romania, a member of President Nixon's Task Force of Women's Rights and Responsibilities, and as a member of the Board of Directors of Zero Population Growth, the Peregrine Fund, and Disney's Animal Kingdom. She is the founding editor of the magazine "Conservation in Practice," and is past president of the Society for Conservation Biology.
"Dee Boersma is one of the most dedicated and creative conservation biologists in the world," said Middlebury College Professor of Biology and Environmental Studies Steve Trombulak. "Her long-term field research on penguins has influenced far more than just our understanding of this species; it opened our eyes to the levels of change human activities have brought to marine environments and how these change will affect our lives."
Named in memory of Scott Margolin of the Middlebury College Class of 1999, the lecture is co-sponsored by the Office of Environmental Affairs and the Program in Environmental Studies. 
For more information, contact Janet Wiseman in the Middlebury College Environmental Affairs Program office at 802-443-5710 or jwiseman@middlebury.edu.