Think globally, heat locally: College celebrates opening of biomass plant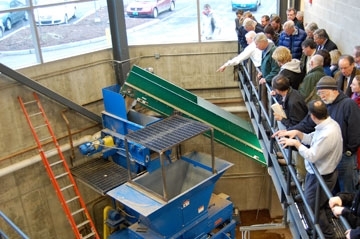 eo virtual tour of the biomass plant at the "News Headlines" page;
Watch a video of the opening celebration
MIDDLEBURY, Vt. - More than 300 people gathered in the McCullough Social Space on Thursday, Feb. 19, to celebrate the launch of Middlebury College's new biomass gasification plant.
Middlebury President Ronald D. Liebowitz welcomed the audience of students, faculty, staff, and townspeople by saying, "This event is somewhat unusual. A new plant that generates heat and electricity doesn't usually evoke so much attention and enthusiasm. But this is no ordinary energy plant."
Biomass gasification, the president explained, is a new technology that cuts the College's consumption of heating oil by 1,000,000 gallons and reduces the College's total carbon dioxide emissions by about 40 percent, or the equivalent of 12,500 metric tons per year.
Also in connection with the biomass launch celebration, Tom McGinn and Mike Moser from Facilities Services gave tours of the plant, a five-minute virtual tour of the plant was shown in the newly renovated McCullough Social Space, and students presented a display of materials related to MiddShift, the College's commitment to be carbon neutral by 2016.
- Text and photos by Robert Keren