Rising star violinist Arabella Steinbacher to perform March 13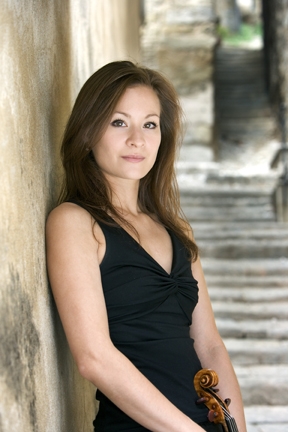 MIDDLEBURY, Vt. ? At 8 p.m. on Friday March 13, German violinist Arabella Steinbacher will perform with pianist Robert Kulek in the Middlebury College Kevin P. Mahaney '84 Center for the Arts Concert Hall. The program for the evening will include Bach, Beethoven, Schnittke and Ravel.
Since her unexpected debut in Paris in 2004, when she stepped in on short notice for an ailing colleague and performed with the Orchestre Philharmonique de Radio France under Sir Neville Marriner, Steinbacher has become a fast-rising star on the international concert scene.
Born in Munich in 1981, Steinbacher began studying the violin at age three. Her mother is a professionally trained singer who came to Germany from Japan to study, and her father was the first solorepetitor in the Bavarian State Opera. At age nine, she was the youngest violin student of Ana Chumachenko at the Munich Academy of Music. She received further guidance from Ivry Gitlis in Paris, and attended master classes with Dorothy Delay and Kurt Sassmanshaus. In 2001, she won the sponsorship prize of the Free State of Bavaria and was awarded a scholarship by the Anne-Sophie Mutter Foundation.
 
In 2007, she made her American orchestral debut with the Chicago Symphony Orchestra and performed the Sibelius Concerto. Critic John Von Rhein of the Chicago Tribune wrote, "The central Adagio came off especially beautifully, Steinbacher conveying its brooding melancholy with a rich vibrato, impeccable intonation, and a remarkable breadth of phrasing.limitless tonal depth swaddled in velvet."
In addition to all of the major concertos of the Classical and Romantic period, her diverse repertoire includes works by Barber, Berg, Glazunov, Khatchaturian, Milhaud, Prokofiev, Schnittke, Shostakovich, Stravinsky, Szymanowski and Hartmann.
Steinbacher records for Orfeo International. In 2007, she received an Echo-Klassik Award for Young Artist of the Year for her collection of a Spanish and South-American works performed with pianist Peter von Wienhardt, titled "Violino Latino." In 2005, she accepted the German Record Critics Award for her recording of Milhaud's rarely-heard Violin Concertos No. 1 and No. 2, "Concertino de Printemps" and "Le Boeuf sur le toit." She received the same award in 2006 for her recordings of Shostakovich. Her most recent recording, a recital recording of works by Ravel, Poulenc and Fauré, was released in 2008 and features accompaniment by pianist Robert Kulek.
Recognized as one of the leading collaborative pianists, Kulek performs with some of the finest musicians of today, including Kyung-Wha Chung, Julia Fischer, Viviane Hagner, Daniel Müller-Schott and Matt Haimovitz. He has received critical acclaim for his work in venues throughout Europe, North America and the Far East.
He was born in Riga, Latvia, and came with his family to the United States at age nine. He began his musical education at New York's Mannes College of Music with Elena Leonova, continuing at the Guildhall School of Music and Drama in London with Joan Havill, and at Yale University with Boris Berman and Claude Frank. He has recorded for EMI, Orfeo and Tudor.
This performance is sponsored by the Middlebury College Performing Arts Series. The Mahaney Center for the Arts Concert Hall is located on South Main Street (Route 30). Tickets are $20 for general admission and $15 for seniors. A pre-performance dinner begins at 6:30 p.m. at Rehearsals Cafe, also located in the Center for the Arts. Reservations are required. For tickets or dinner reservations, contact the Middlebury College Box Office at 802-443-6433 or www.middlebury.edu/arts.