Socially responsible entrepreneur to deliver commencement address May 24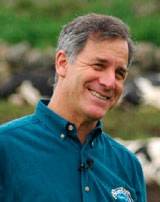 MIDDLEBURY, Vt. ? Gary Hirshberg, the world-renowned chairman, president and CE-Yo, as he likes to be called, of Stonyfield Farm, will deliver the commencement address at the Middlebury College graduation ceremony on May 24. Hirschberg will also receive an honorary Doctor of Humane Letters degree.
"Hirshberg is an inspiring example of someone who has been a creative and innovative force in today's socially conscious business world," said Middlebury College President Ronald D. Liebowitz. "He is a successful risk-taker and living proof that one can not only survive but succeed in our capitalist system while also behaving honorably, ethically and with due concern for the larger society and the need to 'give back.' It is important that our graduating students, and indeed all students, have the opportunity to learn from examples such as Gary's that it is possible to be successful in the for-profit sector without compromising one's core values."
For the past 25 years, Hirshberg has overseen the phenomenal growth of Londonderry, N.H.-based Stonyfield Farm, from its infancy as a seven-cow organic farming school in 1983 to its current $320 million in annual sales. Stonyfield has enjoyed a compounded annual growth rate of over 24 percent for more than 18 years, by consistently producing high quality products and using innovative marketing techniques that blend the company's social, environmental and financial missions.
Hirshberg joined Stonyfield Farm just a few months after its start in 1983. Initially, he directed the Rural Education Center, the small organic farming school from which Stonyfield was launched. Previously, in addition to serving as a trustee of the farming school, Hirshberg had served as executive director of The New Alchemy Institute - a research and education center dedicated to organic farming, aquaculture and renewable energy.
A New Hampshire native, Hirshberg was one of the first graduates of Hampshire College in Amherst, Mass., and has received six honorary doctorates. He was named a Gordon Grand Fellow from Yale. He has won numerous awards for corporate and environmental leadership, including Global Green USA's 1999 "Green Cross Millennium Award for Corporate Environmental Leadership." In 1998, he was named "Business Leader of the Year" by Business NH Magazine and "New Hampshire's 1998 Small Business Person of the Year" by the United States Small Business Administration. In 2001, Stonyfield Farm entered into a partnership with Groupe Danone, and in 2005, Hirshberg was named managing director of Stonyfield Europe, a joint venture between the two firms with brands in Canada, Ireland and France.
Hirshberg serves on several corporate and nonprofit boards including Applegate Farms, the Dannon Company, Honest Tea, Peak Organic Brewing Company, Sambazon, Climate Counts and the Danone Communities Fund. He is the chairman and co-founder of O'Naturals, a natural fast food restaurant company, and the author of "Stirring It Up: How to Make Money and Save the World" (2008). He also served on the advisory panel for Newsweek magazine's Global Environmental Leadership Conference.
The Middlebury College graduation ceremonies, which will be held outdoors regardless of the weather, will take place on the main quadrangle behind Voter Hall on College Street (Route 125) at 10 a.m. on Sunday, May 24. More than 5,000 family and friends are expected to attend.