Students create green video messages for 'Planet Forward' project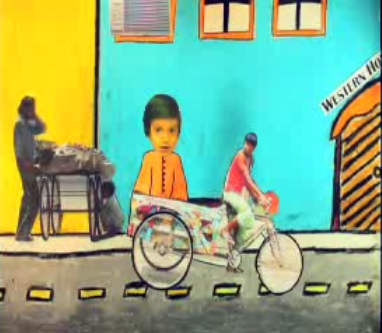 MIDDLEBURY, Vt. ? Several Middlebury College students have contributed videos to the new media project Planet Forward, an online Web community devoted to broadening the national dialogue on energy and climate change. The Web site, whose video contributors range from Ted Danson to Newt Gingrich, invites both video submissions and viewer comments in the hopes of leveraging the interactive communications potential of the Web.
The project will be the focus of a national PBS special hosted by CNN veteran Frank Sesno on April 15, at 8 p.m. Carol Browner, President Barack Obama's assistant for energy and climate change, will be one of the featured guests of the special program. Sesno, guests and the audience will discuss moving away from fossil fuels and toward renewable fuels. Selected videos from the Planet Forward Web site will be shown during the special.
"Planet Forward is empowering citizens to take direct action on one of the most challenging issues of our time: energy and climate change," said Sesno, a 1977 Middlebury graduate and Emmy Award-winning journalist. "In this age of citizen journalism, we are inviting all Americans to join the debate, offer opinions and let their voices be heard." Sesno is professor of media and public affairs at The George Washington University
Submissions by Middlebury students offer creative takes on a wide range of energy-related topics. The darkly humorous animation, "Going Under," which imagines sea levels rising to submerge Bangladesh, was created by seniors Farhan Ahmed, Luisa Covaria, Ioana Literat and Louis Lobel. A chalkboard stop-motion animation, titled "Think Hydrogen," was created by senior Matthew Vaughan and sophomore Michaela O'Connor. Seniors Alex Consalvo and Evan Griswold present "A Message from Bill McKibben." And senior Leslie Stonebraker showcases the college's new biomass plant in "Choose Earth."
The Planet Forward Web site, www.planetforward.org, features content ranging from video opinion pieces and essays to photos to poetry to blogs from scientists, educators, students, business owners and activists. From nuclear power to wind turbines, from biodiesel to building technology, from solar energy to sustainability, Planet Forward invites discussion on all energy options.
Planet Forward is a co-production of the Public Affairs Project at The George Washington University and Nebraska Educational Telecommunications in collaboration with Public Agenda and Sunburst Creative Productions.
— end —